CHOCOLATE FILLED EASTER EGG
Serves 8 | Prep. time 60 mins | Cook. time 20 min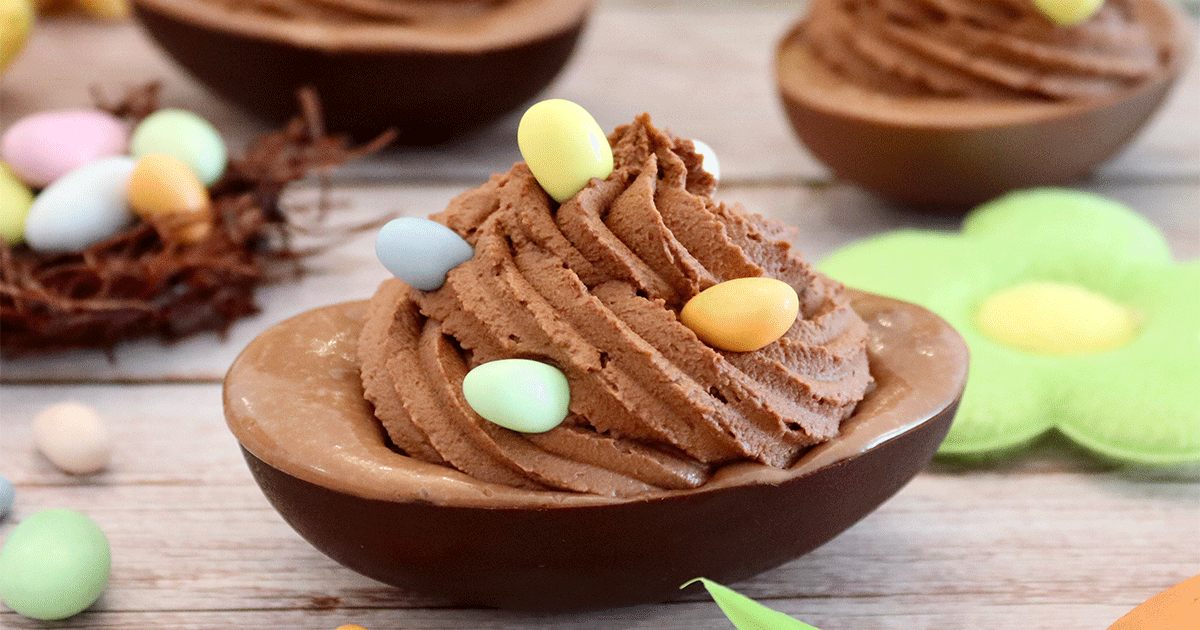 Flourless chocolate cake
40g eggs
65g egg yolks
25g sugar 1
50g butter
150g dark chocolate
165g egg whites
60g sugar 2
Milk chocolate crémeux
5 egg yolks
50g sugar
250g milk
250g cream
250g milk chocolate
Dark chocolate whipping ganache
110g hot cream
110g dark chocolate (60% cocoa butter)
220g cold cream
Flourless chocolate cake
Preheat the oven to 180oC. Start by melting the chocolate with the butter.
In the meantime, mix the eggs and the egg yolks with sugar 1 until foamy.
In another bowl, mix the egg withes with sugar 2 added in 3 times to have a soft meringue.
When the chocolate is melted, add it to the yolk mix. Mix gently. With a spatula, incorporate the meringue delicately.
Bake in the oven for 15 to 20 minutes.
Milk chocolate crémeux
In a bowl, mix the yolks with the sugar and leave aside.
Heat the milk and the cream. Add it slowly to the yolk mixture. Return all into the pan and cook until it thickens and reach 82oC. Add it to the melted chocolate and mix until well emulsified. Leave to cool.
Dark chocolate whipping ganache
Heat 110g of cream and pour it onto the melted chocolate in three times until well emulsified. Add the cold cream and let it chill in the fridge for at least 4 hours. Whip the cold ganache before using.
Assembly
In a chocolate egg shell, put some flourless chocolate cake and pour over it some milk chocolate crémeux to fill the egg. Leave to crystalize in the fridge for at least 3 hours. Pipe some whipping ganache on top and decorate it with chocolate eggs.