CHOCOLATE FRIED HEART SHAPED RAVIOLI
Serves 2 | Preparation/Baking Time 60 mins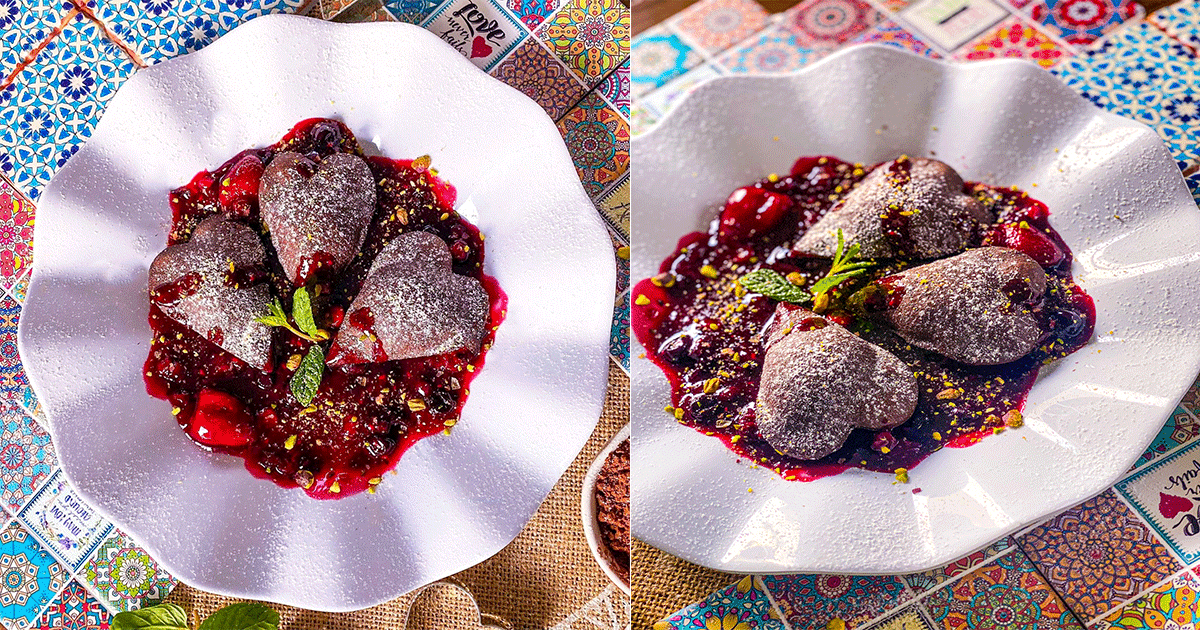 For the pasta dough
1 cup all-purpose flour
2 eggs
1 to 2 tbsp. cocoa powder
1 tbsp. olive oil or melted butter
1 tbsp. powdered sugar
Pinch of vanilla
Vegetable oil for frying
For the filling
½ cup cream cheese (or mascarpone cheese)
1 tbsp. cocoa powder
2 to 3 tbsps. honey
Pinch of vanilla or ½ tsp vanilla extract
For the red fruit sauce
400g frozen red fruits
1 tbsp. cornstarch
½ cup sugar (if you like it too sweet you can go up to 1 cup)
For the pasta dough
Add all ingredients into a food processor. Process the ingredients until fully combined (crumble-like texture.).
Pulse until all dough is formed. Cover it and let it rest for 30 min. Meanwhile prepare the filling (below).
Remove the dough and knead it. Divide it into 2 pieces so it's easier to work with.
Flatten 1 piece of pasta dough and run it through the pasta machine at the widest setting. Then to make it thinner, adjust the pasta machine down to a narrower setting until you reach the desired consistency.
To form the ravioli, place one sheet of dough in front of you horizontally on a flour surface. Spoon a little amount of the cream cheese filling.
Brush the edges with water and add another sheet of pasta on top. Shape it with a ravioli cutter.
Place it in the freezer for at least 30 minutes to one hour.
When ready, heat the oil and fry your raviolis for 1 to 2 min.
Remove the ravioli and place it on a paper towel and let it dry.
To serve it, drizzle the berry sauce on top with a bit of powdered sugar and ground pistachios.
For the filling
Mix all ingredients together and place it in the fridge until your raviolis are ready to be filled.
For the red fruit sauce
In a pot add frozen berries, cornstarch and sugar. Let it boil to achieve the desired consistency.
Let it cool down before drizzling it on top of the raviolis.