Serves 4-6
Preparation 20 mins | Cooking 30-40 mins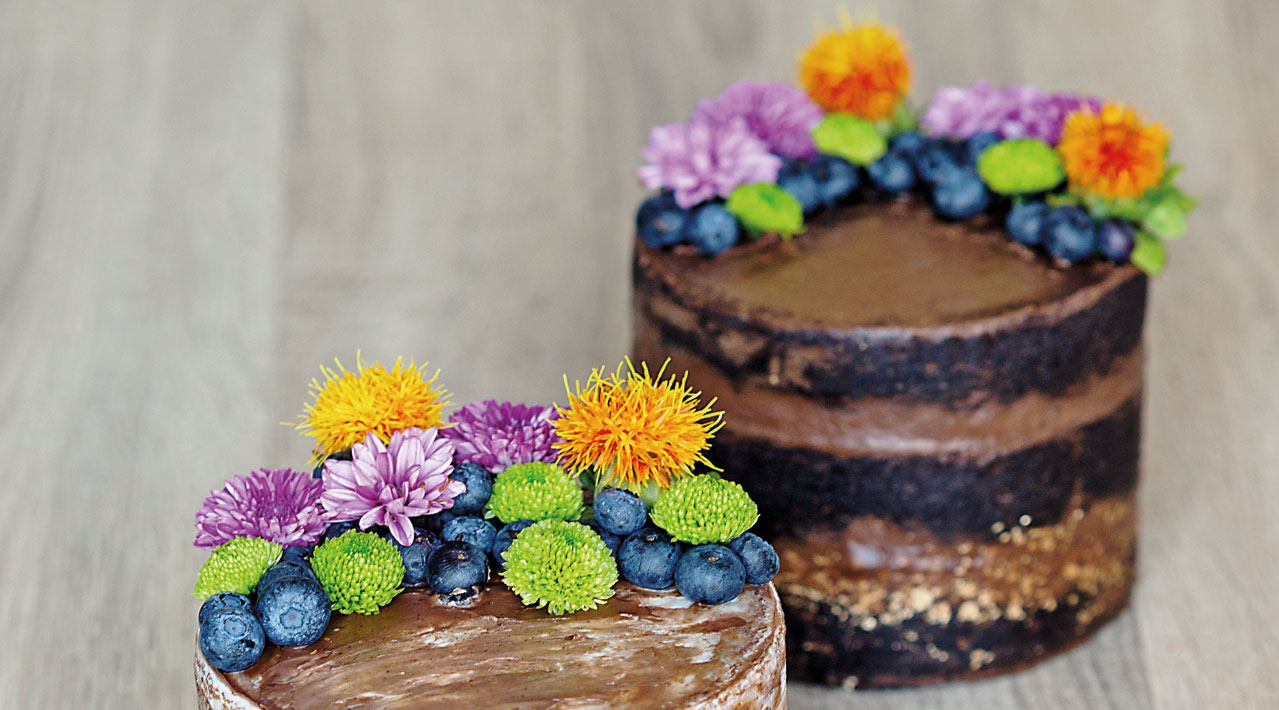 • 70g cocoa powder
• 120ml boiling water
• 1 tablespoon vanilla extract
• 180ml olive oil
• 195g caster sugar
• 3 large eggs
• 165g plain flour
• ½ tsp baking soda
• 1 tsp salt
• zest of 1 lemon
For the butter cream
• 100g dark chocolate (minimum 70% cocoa solids)
• 200g unsalted butter, softened
• 1 tsp vanilla extract
• 200g icing sugar
• 3 tbsp milk, to loosen
1. Preheat oven to 180°C.
2. Grease and line 3 – 15cm baking tins.
3. In a small bowl, sift the cocoa and stir in the boiling water and vanilla until smooth. Set aside to cool.
4. In another bowl, sift the flour, baking soda and salt.

5. In a mixing bowl with a paddle attachment, beat the sugar, olive oil, and eggs until you have a light, fluffy cream, about 3 to 5 minutes.
6. Turn down the speed on the mixer and pour in the cocoa and vanilla mixture.
7. Slowly add the flour mixture until it is evenly incorporated, stopping the mixer and scraping down the bowl as necessary. Fold in the lemon zest.
8. Pour the batter into the prepared pans. Bake for 30 to 35 minutes, or until the sides are set and the top of the cake still looks slightly moist. A skewer inserted into the center should come out clean or with just a few crumbs on it. Let cool in the pan on a wire rack for 10 minutes.
9. Remove from the cake pans and cool completely at room temperature.
10. For the chocolate butter cream, melt the chocolate in a bowl set over a pan of simmering water.
11. In a mixer, beat the butter and vanilla in a bowl until soft, then gradually beat in the icing sugar.
12. Fold in the melted chocolate until completely incorporated and stir in
the milk.