Serves 6-8
Prep. time: 80 min./ Cooking time: 20 minutes
Refrigeration time: overnight / Freezing time: 30 minutes to 3 hours (depending on the ice cream maker)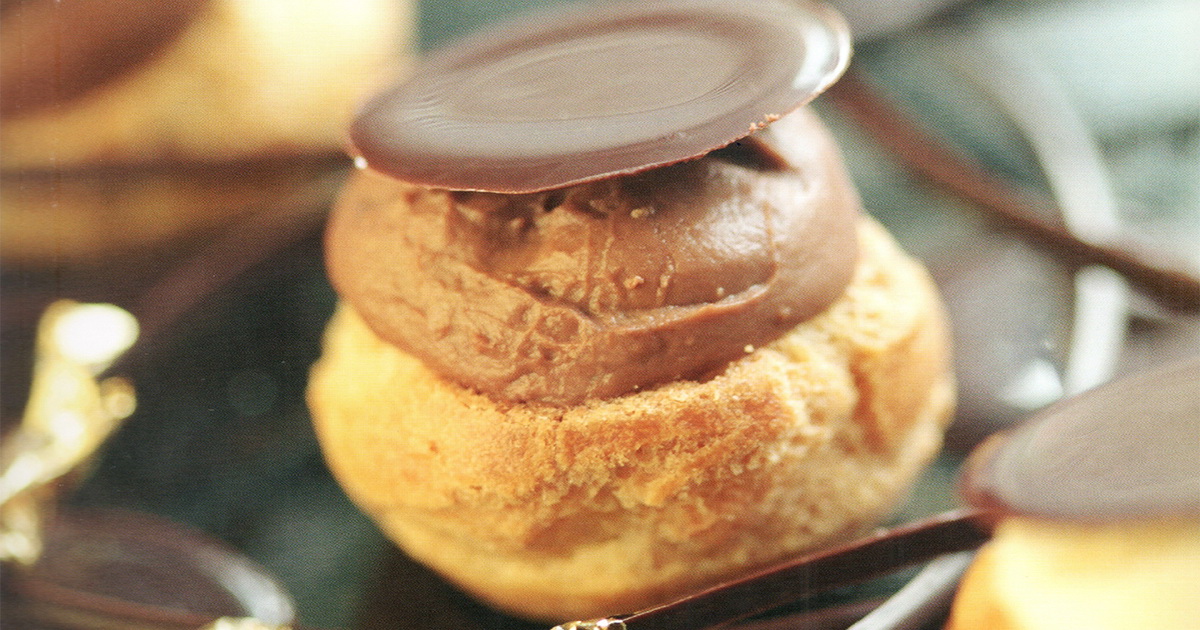 CHOUX PASTRY
75 ml water
75 ml milk
3 g salt
3 g granulated sugar
60 g butter
90 g cake flour
3 eggs plus 1 egg yolk
A handful of sliced almonds for garnish
CHOCOLATE SAUCE
40 g bittersweet chocolate 60 % cocoa
10 g milk chocolate, 40 % cocoa
80 ml whole milk
80 ml whipping cream
BITTERSWEET CHOCOLATE ICE CREAM
90 g bittersweet chocolate, 70 % cocoa
300 ml whole milk
2 tbsps. plus 1 tsp. (35 ml) whipping cream
2 tbsps. powdered milk
3 ½ tbsps. sugar
1 ½ tbsps. honey
VANILLA-SCENTED CHANTILLY CREAM
1 vanilla bean
170 ml whipping cream, well chilled
15 g sugar
A day ahead, make the chocolate ice cream.
CHOUX PASTRY
The next day, prepare the choux pastry. Preheat the oven to 250°C.
In a saucepan, bring the water, milk, salt, sugar, and butter to a boil. Sift the flour into the liquid. The important step is to dry it out: stir energetically until the moisture has evaporated. Remove from the heat and mix in the eggs one by one. Stir thoroughly each time. When the consistency is right, it will
have a satin sheen, like paint. Spoon the batter into a piping bag and pipe out little rounds, just over ⅓ oz. (12 g) or 1 in. (2.5 cm) in diameter per choux on a lined baking sheet. For a nice finished result, brush the top of the dough with a beaten egg yolk and press down lightly with a fork. Scatter over a few sliced almonds.
Place the baking sheet in the oven and immediately switch off the heat. As soon as the choux pastry begins to swell and color, turn the heat back to 180°C and leave the pastries to dry out slowly for about 10 minutes.
CHOCOLATE SAUCE
Chop the two sorts of chocolate and melt them slowly in a bain-marie* or in the microwave oven (on *defrost" or at 500 W maximum, stirring from time to time).
Bring the milk and cream to a boil. Gradually pour a third of the boiling liquid over the melted chocolate.
Using a flexible spatula, mix in energetically, drawing small circles to create an elastic, shiny *kernel.' Incorporate the second third of the liquid, using the same procedure.
Repeat with the last third. Process briefly using an immersion blender. Chill until serving.
VANILLA SCENTED CHANTILLY CREAM
Slit the vanilla bean lengthways and scrape out the seeds into the well-chilled cream.
Whip the cream with the sugar and vanilla seeds until it reaches the consistency of a Chantilly cream.
ASSEMBLE
Begin heating the chocolate sauce. Cut the tops off the choux pastries using a serrated knife. Place three pastries in each plate.
Fill one with the vanilla Chantilly cream and the two others with the chocolate ice cream.
Lightly sprinkle the tops with sugar and replace them over the fillings.
Alternatively, cover with chocolate disks (optional). Serve with hot chocolate sauce.
CHEF'S NOTE
You may also fill the choux pastries with ice cream ahead of time and freeze them.
Just remember to take them out 5 minutes before serving.
OTHER RECIPES WITH VALRHONA