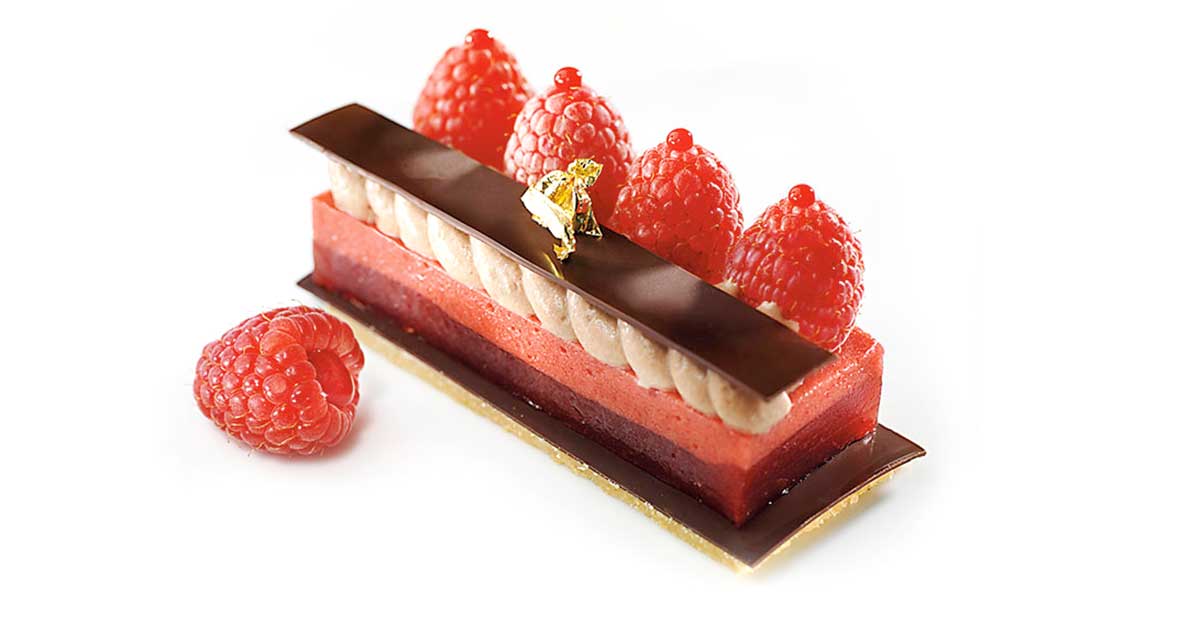 Hazelnut crunch
55g milk chocolate
22g butter
110g praline paste
110g hazelnut paste
110g feuillantine (crushed Gavotte crêpes)
45g toasted hazelnuts, finely chopped
Double textured raspberry
400g raspberry purée
160 ml water
130g sugar
6 gelatin sheets
Chocolate rectangles
Milk chocolate ganache
375 ml whipping cream
300g milk chocolate, melted
Garnish
200g raspberries
Gold leaf (optional)
1. For the hazelnut crunch, melt the chocolate and butter, add the praline paste, hazelnut paste, crispy feuillantine and chopped toasted hazelnuts.
2. Spread a thin layer into a 20x30cm metal frame and refrigerate.
3. Cut into 14 rectangles each 10x4cm.
4. For double textured raspberry, reduce the raspberry purée by half, there will 200g.
5. Bring the water and sugar to a boil and add the softened gelatin.
6. Combine the reduced raspberry purée with the sugar syrup.
7. Take 2/5 of the raspberry base mixture, cool quickly and then beat in a stand mixer.
8. Spread a 1.5cm layer of the beaten raspberry marshmallow into a metal frame and freeze.
9. Pour the unbeaten raspberry base mixture over the frozen raspberry marshmallow layer and leave to set.
10. Cut the double textured raspberry into rectangles (10x4cm) and turn over
(marshmallow side should be on top).
11. For the chocolate rectangles, temper the dark chocolate; spread a thin layer onto a baking sheet lined with a sheet of acetate or thick plastic.
12. Leave at room temperature until the chocolate is dry enough to touch but not set solid.
13. Cut 14 rectangles each 10x4cm and 7 smaller rectangles each 5x2cm. Refrigerate until set.
14. Just before serving carefully lift the rectangles from the plastic sheet.
15. For the milk chocolate ganache, warm the cream and pour over the melted chocolate. Cool and whisk to a light mousse consistency. Transfer to a piping bag fitted with a round tip.
16. For assembly, place a layer of hazelnut crunch on a plate and top with a chocolate rectangle (10x4cm) followed by a double textured raspberry rectangle.
17. Pipe a line of emulsified milk chocolate the length of the marshmallow and top with a small chocolate rectangle (5x2cm).
18. Arrange a line of raspberries next to the piped milk chocolate ganache and decorate with gold leaf.