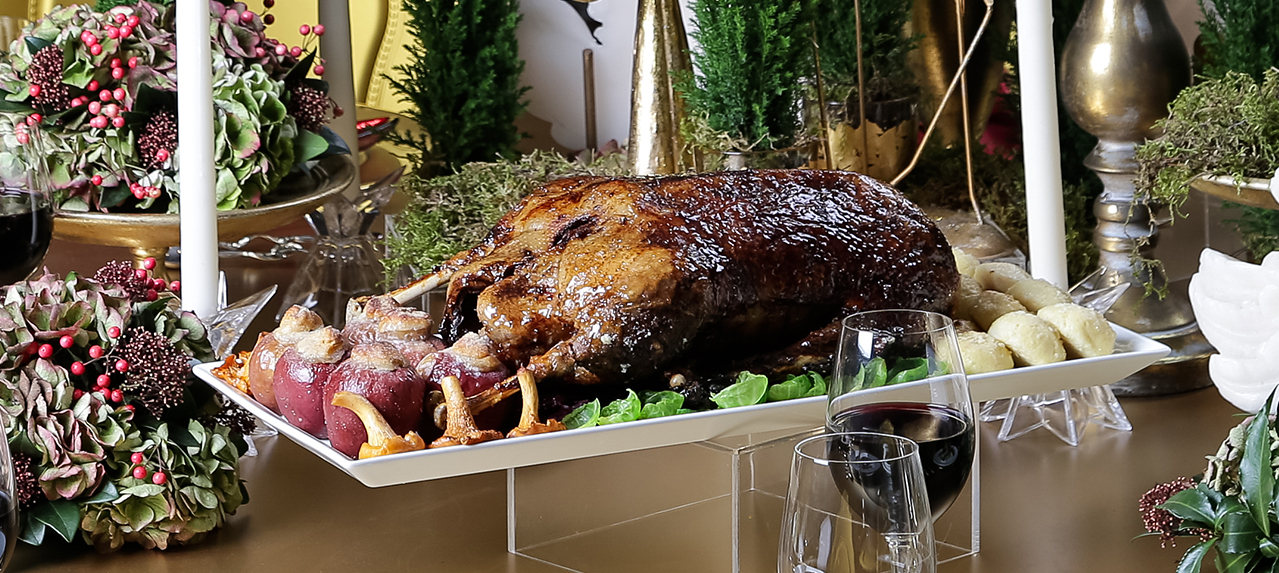 • 4.5 kg goose
• 1 kg potato dumpling
• ½ kg Brussell sprouts
• ½ kg Chanterelle mushrooms
• 2 kg red cabbage
• 2 kg baby red apples
• 200g marzipan
• Salt
• 50g oregano
• ½ tsp white pepper
• 1 kg celery
• 1 L chicken stock
• ½ L cider
• 1 kg onion
• 200g honey
• 60 ml vinegar
• 3 bay leaves
1. Heat oven to 180°C. Remove all the fat from inside the bird and use a skewer to prick the skin all over, especially under the wings.
2. Season the inside and stuff the goose with onion, apple and oregano. Rub the breast and legs with the oil; season generously with salt.
3. Sit the bird, the right way up, in a large roasting tin. Cover with a large piece of foil, scrunching it up at the sides so it's a tight fit. Place the goose in the oven for 1 hour 30 minutes.
4. Take the goose out of the oven, then remove the foil, carefully ladle all the fat out of the tin (or use a baster to suck it out) into a bowl, then lightly baste the goose. Re-cover with foil, then roast for another
1 hour 30 minutes.
5. Pour all the fat from the tin again, baste, then return to the oven without any foil to brown for a final 30-40 minutes until golden brown. Don't worry about whether it's done; the goose will be cooked all the way through. Transfer the goose to a large board or platter to rest in a warmish place for 30 minutes. Keep the tin to finish the gravy in.
6. To make the gravy, while the goose is roasting, heat the oil in a sauté pan until very hot, add the pieces of goose neck, then fry until browned and caramelized.
7. Add the veg to the pan, then fry for about 10 minutes until brown and just starting to burn slightly. Throw in the herbs, then pour over the cider and boil down by about two-thirds, skimming off any froth that comes to the top.Pour in the chicken stock, reduce by half, then strain into a large jug and set aside.
8. The stock can be made the day before. The goose could be served with potato dumpling, red cabbage stew, seared chanterelles and baked apple and marzipan.