MASTER PASTRY CHEF, AUTHOR & TV PERSONALITY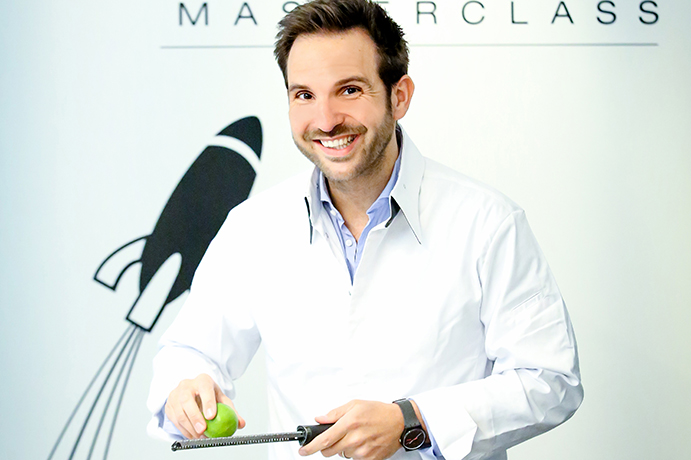 Chef Christophe Michalak is anything but ordinary. Skilled at making your guilty pleasures come true, this self-proclaimed 'super hero of pastry', believes generosity is essential when it comes to making pastries and cakes, but consistency does not (changing recipes from one day to the next, to avoid boredom). With a dream of developing a sweet-salty universe, Michalak throws his whisk on conventionality to create his own sweet paradise.
Born in 1973 in Senlis, Oise, France, Christophe Michalak was passionate about architecture, until he diverged to pastry creations at the age of 15. He acquired his certificate of professional excellence in patisserie from the trade school of Angers, then wandered the world, seeking expertise. His repertoire involves experience in renowned restaurants and pastry shops, including Kobe in Japan, Pierre Hermé in New York, and Paulette Macarons in Beverly Hills.
In 2013, Michalak set up a pastry training school in Paris. He authored five cookbooks and also published a collection of best recipes. Michalak is also a TV personality, part of three cookery shows in France. He has also been involved in the French version of MasterChef.
In mid-October 2015, he opened his pastry shop in Paris, and in April 2016, he quit the three-Michelin starred Plaza Athenaeum in Paris to be fully dedicated to his label, and to open a new pastry shop in Saint Germain. In 2018, he opened his first store in Japan.
"This would be chocolate, as I am fascinated about its three varieties: Black, milk and even white. I use black chocolate for bitter recipes, while with milk chocolate, I create sweets and desserts, whereas I use white chocolate with whipped cream flavored with vanilla and Tonka beans. I also like sea salt as it always seasons my pastries, and breathes into my chocolate tablets a true spice of life. Tasting chocolate is a must. It should be bright, crisp and with lots of aromas on the nose and mouth. Above all, it must seduce you, similar to wine!
A quick recipe would be melting chocolate over 29°C, season with salt, a scraped vanilla bean and some grated Tonka beans. Pour the whole mix on a baking sheet, sprinkle toasted pecan beans and let freeze. Crush and share with friends".