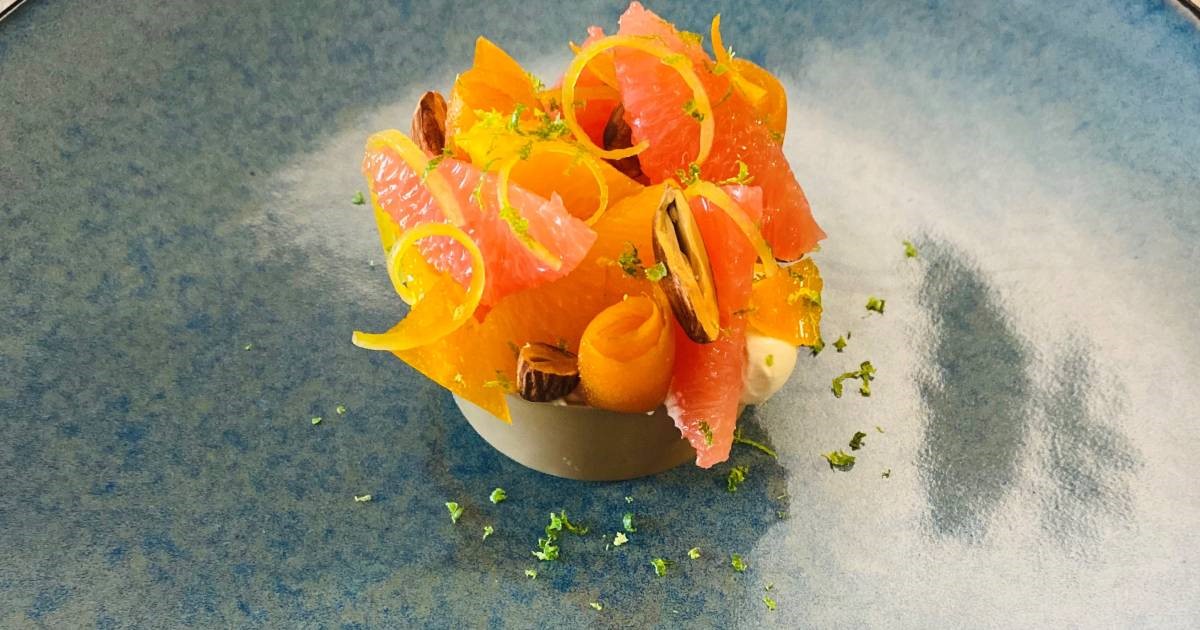 ORELYS/ALMOND/CITRUS BROWNIE
100g caster sugar
75g brown sugar
50g muscovado sugar
100g roasted almond
80g eggs yolks
120g eggs white
150g Orelys chocolate
135g butter
80g flour
40g desiccated coconut
2 grapefruits zests
CITRUS MARMALADE
250g orange
200g grapefruit
50g lemon
360g sugar
70g orange juice
70g lemon juice
60g grapefruit juice
65g water
40g sugar
12g pectin nh
ORELYS CHANTILLY
200g whipping cream
5g grated ZAN (licorice)
20g glucose liquid
70g Orelys chocolate
ORELYS CHANTILLY
200g whipping cream
5g grated ZAN (licorice)
20g glucose liquid
70g Orelys chocolate
OTHER ELEMENTS
Orelys ring diameter
7cm Toasted Ground
Almond fresh
Orange segments
Fresh grapefruit segments
Candied orange skins
Candied grapefruit skins
Candied lemon skins
Poached Kumquats
Lime zests
Mix brown sugar and muscovado with the yolks until a white 75g brown sugar consistency then add the half of caster sugar.
Melt the butter and orelys chocolate in the microwave. 100g roasted almond.
Then mix both mixtures together.
Add the flour, coconut, chopped almond and zests to the mix.
Whip the eggs white with the second half of caster sugar to 150g orelys chocolate   make a meringue, then add to the first mix.
Spread in a frame then bake at 165 degrees around 20 min.
Boil all the citrus in the hot water during 2 hours.
Cold them down then chop it in small pieces.
Add the first sugar and all the liquids.
Boit it properly then with the hand mixer blend it and in the same time add the second sugar and pectin nh.
Boil properly during 5 min then cool down and keep in the chiller overnight. 65g water
Boil the cream then add the liquorice and infuse 15min 5g grated ZAN (licorice)
Warm again the cream then pour over the Orelys.
Blend properly then keep overnight in the chiller.
Whip the day after.
Spread a thin layer of citrus marmalade on the top of the brownie then cut some pieces 7cm diameter.
In a plate in the middle put the Orelys ring then add the pre cut brownie & marmalade in the middle.
Whip properly the orelys/licorice chantilly then pip a thin layer on the top of the marmalade and few spikes.
 Then add all the citrus elements to create a nice looking and volume, finish with the toasted chopped almonds and a lime zest on the top.