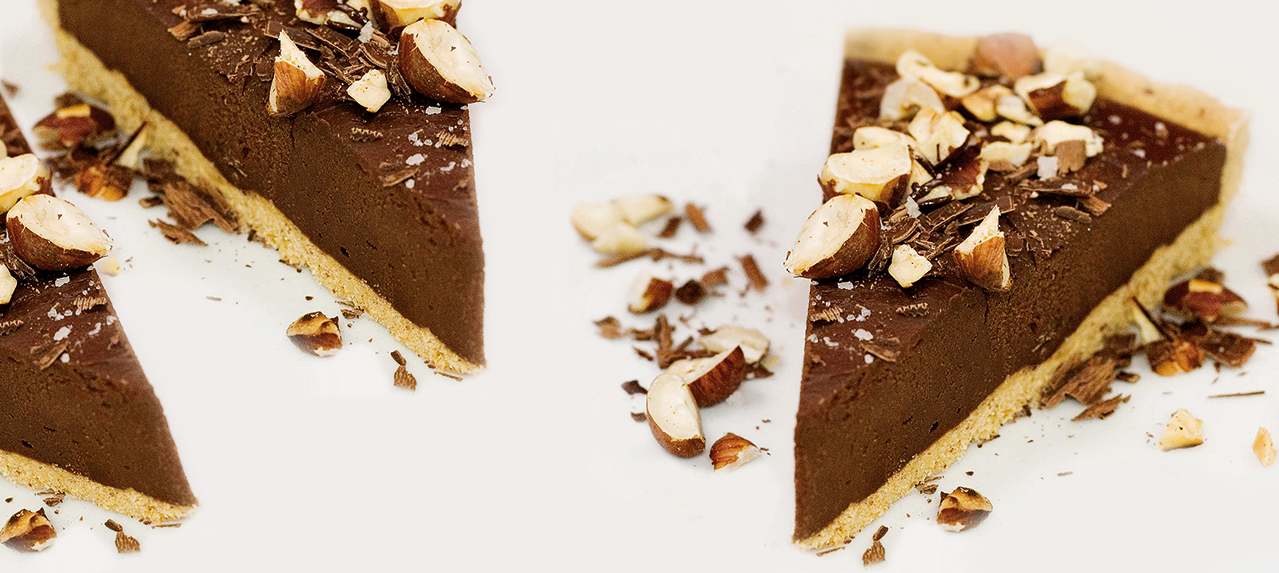 Crust
¾ cup raw almonds
¼ cup coconut oil
3 tbsp maple syrup
¼ teaspoon salt
½ cup oat flour
1 cup rolled oats
Filling
1 bag dark chocolate chips (about 340g)
1 can full-fat coconut milk,
chilled in fridge overnight
2 tbsp maple syrup
Pinch of salt
1 tsp vanilla extract
1. Preheat oven to 175°C and lightly grease a 9-inch pie dish with coconut oil.
2. Process the almonds in the food processor until a fine crumb forms. Add coconut oil, maple syrup, salt, and oat flour and process again until the dough comes together.
3. Pulse in the rolled oats until the oats are finely chopped, but still have some texture.
4. With your fingers, crumble the dough evenly over the base of the pie dish.
5. Poke 5-6 fork holes into the bottom to let the air escape.
6. Bake pie crust, uncovered, at 175⁰°C for 13 minutes.
7. Remove from oven and set aside to cool for about 20 minutes.
8. Chill coconut milk overnight.
9. Scoop out the solid white coconut cream into a pot without adding the water. Add chocolate chips and stir until combined.
10. Heat over low-medium heat until most of the chocolate is melted. Remove from heat and stir in the maple syrup, salt and vanilla extract.
11. Pour chocolate filling into pie crust and smooth out. Place in fridge for a minimum of 2 hours.
12. Allow pie to rest for 15-30 minutes before attempting to slice. Best served chilled.