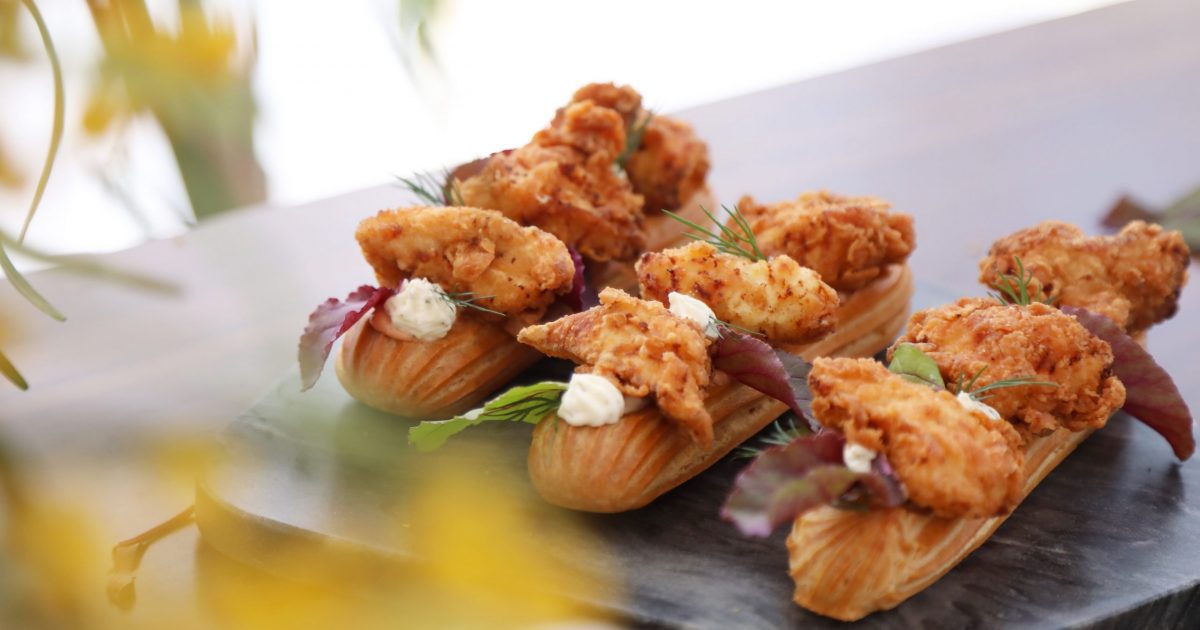 For the éclair
● 1 cup liquid milk
● ½ cup water
● 2 tbsp. sugar
● 1 tsp salt
● 140 g butter
● 200 g flour
For the garlic cream cheese
● 220g cream cheese (softened)
● 2 tbsp. unsalted butter (softened)
● 1 small clove of garlic (fine chopped)
● ¼ tsp sea salt
● 1 tsp dried oregano
● ½ tsp dried basil
● ½ tsp dried parsley
● ½ tsp dried chives
● ½ tsp dried dill
● Salt & pepper to taste
● ½ tsp lemon zest
For the Tangy mayo sauce
● ½ cup mayo
● ¼ cup ketchup
● 1 ½ tsp garlic powder
● 1 tsp salt
● Pinch of fresh pepper
● 1 tsp Worcestershire sauce
For the crispy chicken
● 2 chicken breasts (boneless and skinless cut into cubes)
● 1 cup buttermilk ( or replace it with 1 cup of milk or cream with 1 tbsp. of lemon juice)
● 1 tsp hot sauce (optional)
● 2 eggs
● 1 ½ cup flour
● ½ cup bread crumbs
● 1 to 2 tsps. salt
● 1/8 tsp fresh pepper
● 1⁄8 tsp sweet paprika
● ¼ tsp garlic powder
● 1⁄8 tsp baking powder
● Canola oil for frying
For the éclair
● Preheat oven to 175°C.
● Heat a saucepan over low heat. Pour the milk, water, sugar and salt.
● Add butter and gently stir in with a spatula, so it can melt and be absorbed into the liquid.
● After it has melted, add the flour slowly and incorporate it into the liquid. Stir, until you obtain a dry, golden dough. When it's ready, add it into your mixer bowl.
● Crack the eggs into a large bowl, whisk, and pour them in the mixer bowl. Turn on your mixer and mix for 3-4 minutes, until smooth. Place the dough into a piping bag. Use all of the dough to make as many éclairs as you can.
● Transfer the tray into the oven for 30 min.
For the garlic cream cheese
● Combine cream cheese, butter, garlic, pepper and salt in the bowl of a food processor. Pulse until smooth. Add oregano, basil, parsley, chives and dill. Pulse a few times until well combined. Fold in the lemon zest manually and transfer mixture into a small bowl. Cover and chill for 30 min.
For the Tangy Mayo Sauce
● Mix all ingredients together until well combined.
For the Crispy Chicken
● Take the chicken breasts that have been deboned and cut into medium size cubes and soak them in a bowl with the buttermilk and hot sauce for 30 minutes.
● Add the eggs to one bowl and the flour, bread crumbs and spices into a second bowl.
TIP
The garlic cream cheese can be prepared 2 days ahead. Cover and chill.