CRUNCHY CHOCOLATE CAKE WITH DOCELLO® CHOCOLATE MOUSSE
Serves 40 | Calories per serving: 361 Kcal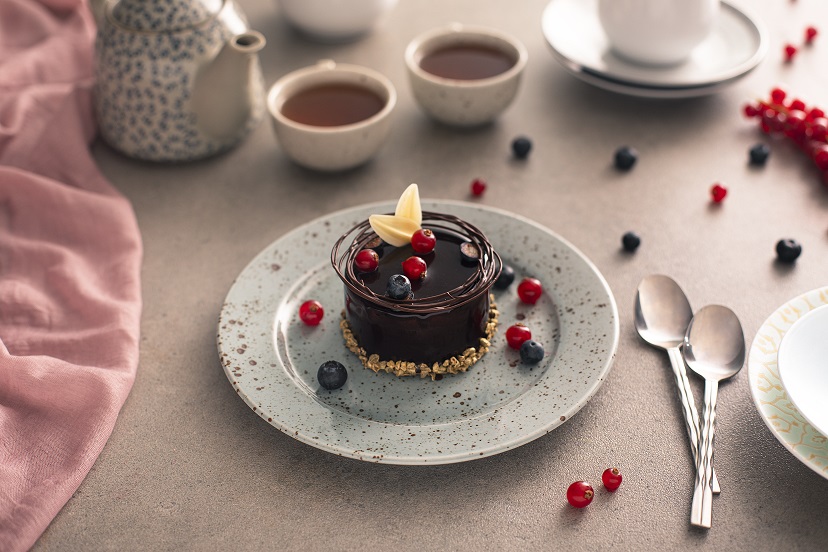 Chocolate Cake
160g all purpose flour
65g egg
280g sugar
50g cocoa
5g soda bicarbonate
2.5g vanilla
165g vegetable oil
1g salt
120g hot water
160ml buttermilk
Crispy Hazelnut
120g hazelnut praline 60%
65g milk chocolate melted
30g toasted hazelnuts
105g corn flakes crushed
Passion Fruit Cremeux
65g Nestle Docello Cream Brulee Dessert Powder
195ml passion fruit puree
195g whipping cream
Chocolate Mousse
315g Nestle Docello chocolate mousse dessert powder
625 milk
12.5 ml gelatin
Glaze
56g gelatin sheets
315g water
565g sugar
565g glucose
565g dark chocolate
400g Nestle Sweetened Condensed Milk
225g neutral glaze
For the Dacquoise Chocolate Cake
Preheat oven at 180°C.
Sift flour, almond powder, and icing sugar.
In a bowl, whisk to combine, egg white powder and sugar.
In a separate bowl, whisk egg whites at medium speed, add egg white powder mixture slowly, and continue to whip to medium stiff
Fold sifted ingredients into whipped whites, followed by crushed chocolate.
Spread the mixture into 8 rings of 16 cm diameter and bake for 11-15 min.
For the Crispy Hazelnut
Mix to combine praline with chocolate in a mixing
Add in hazelnuts and crushed corn flakes, and stir to combine.
Divide the mixture between 8 rings of 16 cm press to 4 mm thickness and freeze until required for use.
For the Passion Fruit Cremeux Insert
Cook Creme Brulee mixture with the cream as per instructions on the packet.
Cool slightly and mix in the passion fruit puree.
Spread evenly into 8 insert molds of 16 cm and freeze.
For the Chocolate Mousse
Make as per instructions on the packet.
For the Glaze
Soak gelatin in cold water.
Bring water, sugar, and glucose to a boil.
Squeeze excess water out of the soaked gelatin and stir into the syrup.
Place chocolate in a medium sized bowl; pour hot syrup onto the chocolate and emulsify using a hand blender.
Stir in condensed milk and neutral glaze; beat until smooth.
Heat glaze to 35°C to use.
Assembly and Finishing
Line 8 molds of 21 cm with acetate strips.
Build entremet upside down in following order:

Pipe a layer of dark chocolate mousse.
Place passion fruit creameux on top of the mousse.
Pipe another layer of mousse on the creameux.
Place the hazelnut crunchy insert.
Pipe a small amount of mousse and place the dacquoise cake on top.
Freeze, un mold and glaze frozen cake.

Serve between 1-5°C.
OTHER RECIPES YOU MIGHT LIKE