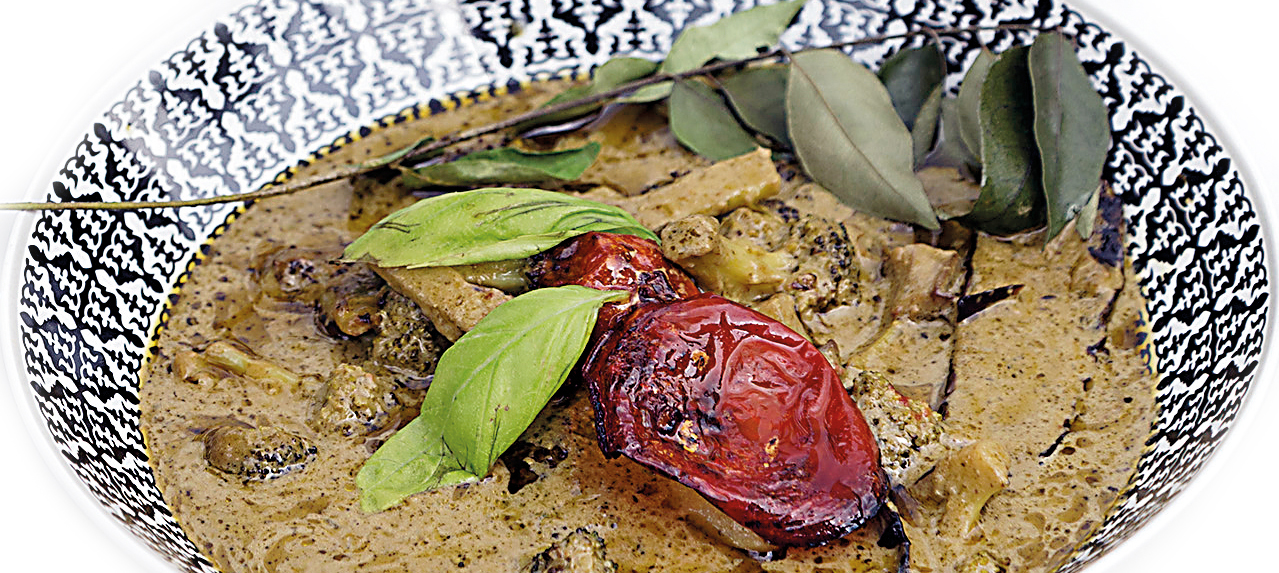 • 2 small aubergines cut into small cubes
• Canola oil for frying
• 4 small tomatoes, halved
• 4 (400ml) cans coconut milk
• A large handful of kaffir leaves
• A large handful of curry leaves
• 2 red chili peppers
• A handful of tamarind, soaked in hot water
and de-seeded
• 2 tbsp fish sauce
• 2 tbsp low-sodium soy sauce
• 1 tbsp lime juice
• 4 small potatoes, boiled, peeled and cubed
• 1 ½ Mediterranean sea bass fillet
• A handful coriander leaves, chopped
• A handful basil leaves, chopped
1. To make the curry, salt the aubergine cubes and place them in a colander. Rest for 30 minutes to drain any excessive water.
2. Preheat oven to 180°C. Place the aubergines onto a greased baking tray and transfer to oven. Cook for about 30 minutes until aubergine are soft and cooked through. Remove the tray from oven and set aside to cool.
3. Heat some canola oil in a pan over high heat. Add the tomato halves, skin up. Leave to cook for about 10 minutes until the oil takes on a red color, the tomatoes are slightly caramelized and the skins wrinkled.
4. Place a wok over high heat. Add a dash of canola oil and heat before adding the green curry paste. Cool for a few minutes, stirring occasionally. Mix in the solid part of the coconut milk (coconut butter) and cook for 5 minutes. Add the coconut liquid and cook until the mixture begins to simmer. Stir in the shrimp paste kaffir leaves curry leaves and red chili peppers.

5. Strain the tamarind into a bowl. Mix the tamarind liquid and paste into the curry. Add the cooked tomatoes fish sauce soy sauce and lime juice and simmer over low heat for 30 minutes.
6. Strain the curry mixture and place it back into the wok over medium high heat. Add the potatoes and aubergines and leave to cook for a few additional minutes. Add the fish fillets which will only need a few minutes to cook. Finally add the coriander and basil leaves right before removing the curry from the heat. Serve alongside steamed white rice and lime, mango and sweet mango chutney.