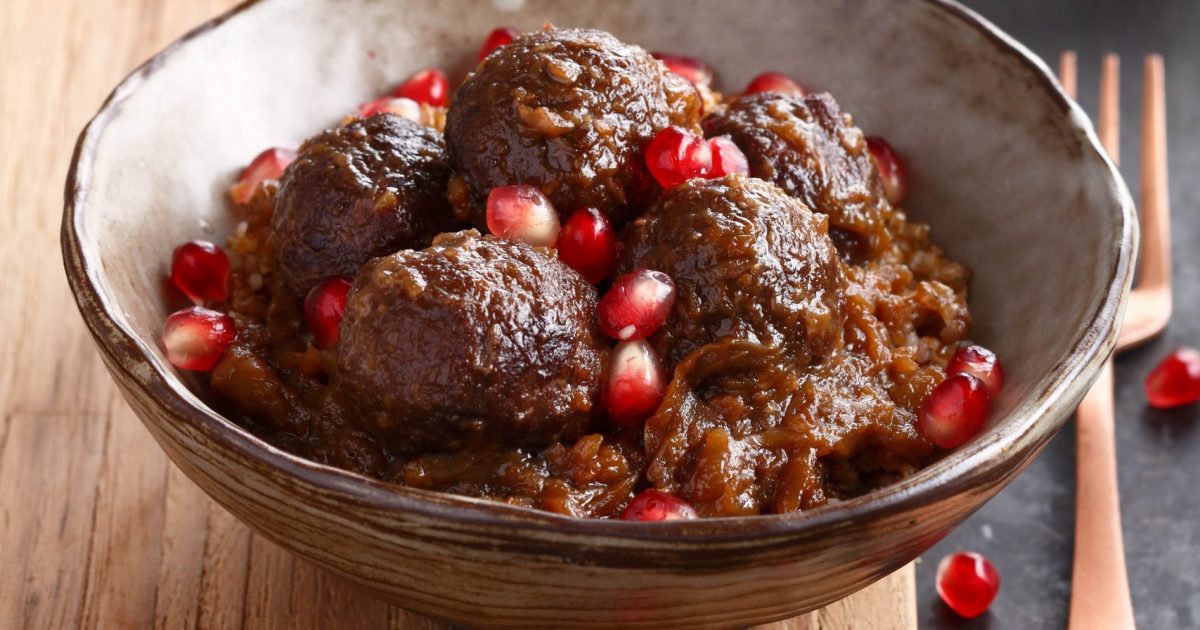 For the caramelized onion sauce
• 5 onions, thinly sliced
• 2 tbsp peanut oil
• 30 g walnuts
• 2 tbsp pomegranate
molasses
• Salt and pepper
For the lamb meatballs
• 500 g ground lamb
• 10 g salt
• 5 g pepper
For the bulgur with vermicelli
• 150 g brown bulgur
• 30 g vermicelli
• 30 cl chicken stock
• Salt and pepper
Caramelized onion sauce
1. Heat the peanut oil in a pan and add the onions. Season with salt and pepper and cook on a low heat, stirring often.
2. 30 minutes later, once the onions start to soften and caramelize, add the nuts and the pomegranate molasses. Mix well and allow to simmer for 15 minutes, until the sauce thickens.

Meatballs
1. Season the meat with salt and pepper and mix well.
2. Form the meatballs, trying to make them all the same size, weighing around 10 g.
3. Bake the meatballs in the oven at 180°C for 13 minutes. Add the meatballs to the sauce.
Bulgur
1. Heat some oil in a pot and fry the vermicelli until golden. Add in the bulgur and mix well.
2. Add in the chicken stock and bring to the boil, then lower the heat, cover and allow to cook for 15 minutes.
3. Serve everything together with some fresh pomegranate seeds.
OTHER RECIPES FROM THE HARD COPY

SERVE WITH
Hochar Père et Fils Red
2017 or 2018
Complex nose of red cherries, sweet
smoked and cinnamon spice aromas, with
subtle earthy characters on the palate.