DARFIEH CHEESE, BEETROOT SPIRAL & WILD HERBS ICE CREAM
Serves 4   | Preparation time 15mins | Cooking time 90mins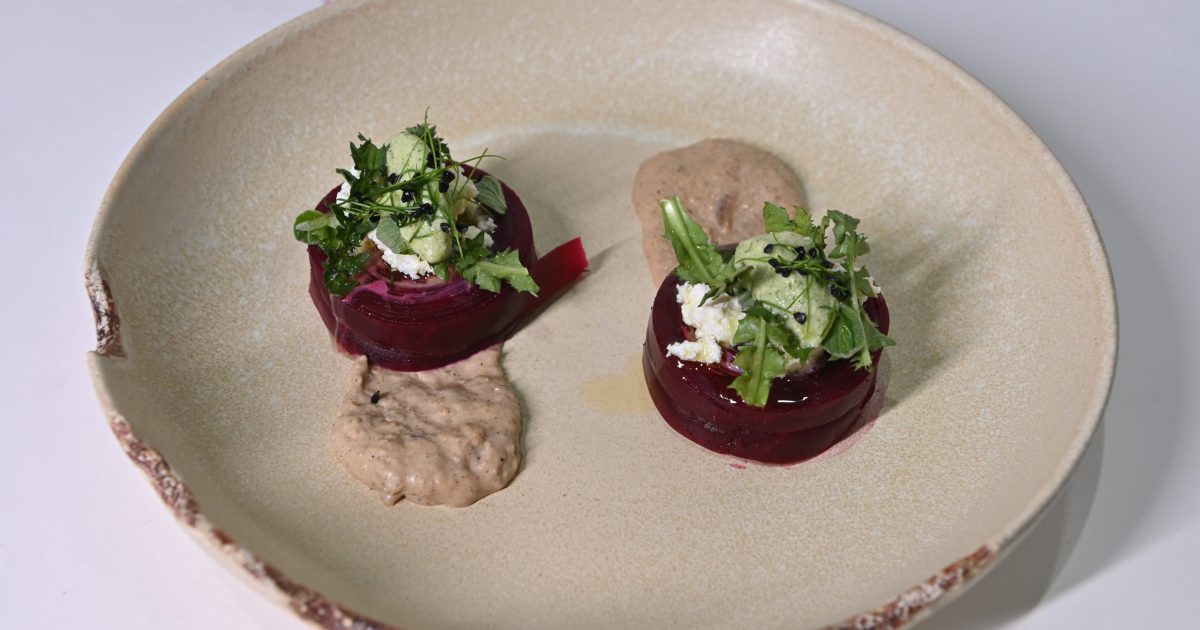 120 g Darfieh cheese
1 pc beetroot spiral
30 g onion and walnut mousseline
4 pcs micro herbs
9 pcs oregano sprouts
10 g olive oil
20 g wild herbs ice cream
Beetroot spiral
1 piece beetroot
500 ml beetroot juice
200 ml white balsamic
50 g sugar
3 liters water
50 g salt
Wild herbs ice cream
30 g sugar
20 g milk powder (nonfat)
15 g salt
125 g cream
860 g liquid milk
20 g lemon juice
100 g wild herbs
Onion and walnut mousseline
20 g butter
200 g white onions
50 g walnuts
30 g white wine
16 g flour
100 g cream
10 g salt
2 g pepper
Beetroot Spiral
Make beetroot sheets using a vegetable sheeter or turner.
blanch the beetroot sheets in salted water to soften.
Roll the softened beetroot sheets and wrap using butcher string.
In a saucepan combine beetroot juice sugar and white balsamic and bring to a gentle simmer.
Cut the beetroot rolls into 2.5cm discs and cook in the beetroot juice until tender.
Reserve the rolls in the cooking juice until needed.
Wild herbs ice cream
Heat the milk & cream in a saucepan.
Add the mix of dry ingredients: milk powder, sugar and salt
Let the mix simmer for 2-3 minutes.
Turn off the heat and add the wild herbs and blend.
Freeze overnight in a pacojet canister.
Add lemon juice and pacotize to obtain a silky texture.
Onion and walnut mousseline
Heat the butter in a saute pan, sweat down the sliced onions until soft, maintain the white color.
Add the walnuts in the pan.
Add the flour and keep cooking for another minute.
Deglaze the pan with white wine.
Add the cream and reduce to obtain a velvety texture, adjust the salt & pepper to taste.
Reserve in a piping bag.