DARK CHOCOLATE WITH GIANDUJA AND CARAMELIZED HAZELNUTS
BY CHEF MOHAMAD ABBAS, FOUR SEASONS HOTEL BEIRUT
Serves 1 | Preparation 40 mins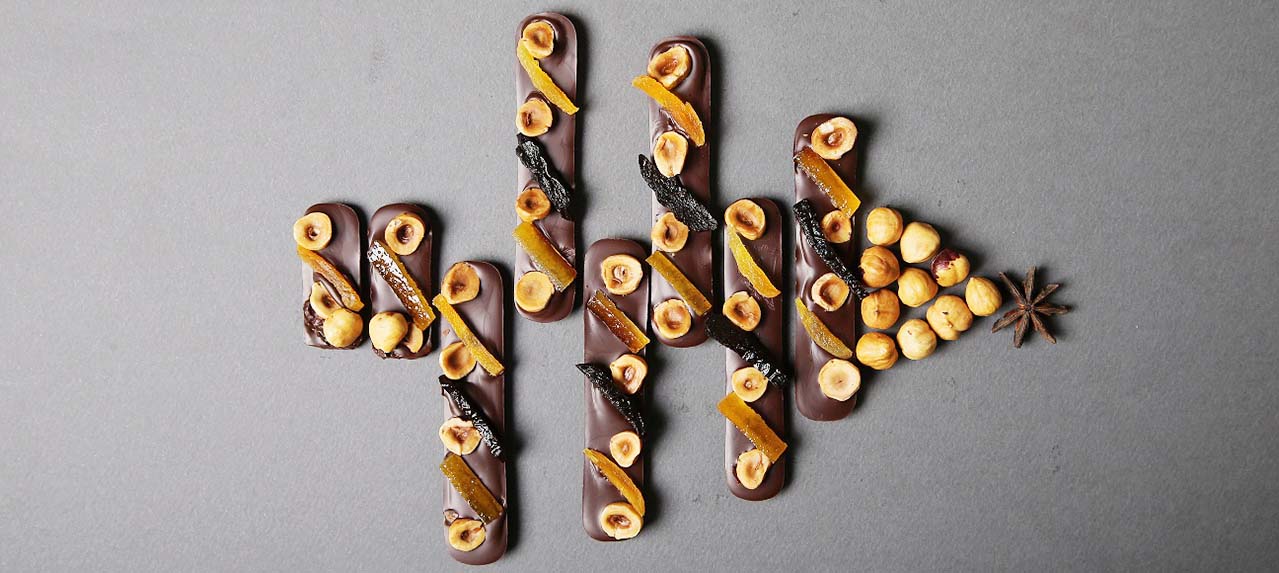 ½ Cup of Hazelnuts
2 Tablespoons of Brown Sugar
1. Preheat the oven to 180 degreesºC.
2. Put a greaseproof paper on a baking tray, and spread the hazelnuts on it close to each other.
3. Sprinkle brown sugar on the hazelnuts and put in the oven.
4. After 10 minutes, take out the tray and mix the hazelnuts with the caramelized brown sugar so that they are all covered. Leave in the oven for another 10 minutes.
5. Temper the dark Chocolate and fill the molds.
6. Turn it upside down to remove all excess chocolate.
7. Tap the mold from the sides to remove air bubbles.
8. Fill the mold halfway with gianduja.
9. Add pieces of caramelized hazelnuts.
10. Cover the mold with tempered chocolate to close the bottom and let it set.
11. Put the mold in the refrigerator for 10 minutes then turn it over to the chocolates.
12. Decorate with remaining caramelized hazelnuts, orangettes, apricots and prunes.