DETOX TIPS TO PRACTICE POST-FESTIVE SEASON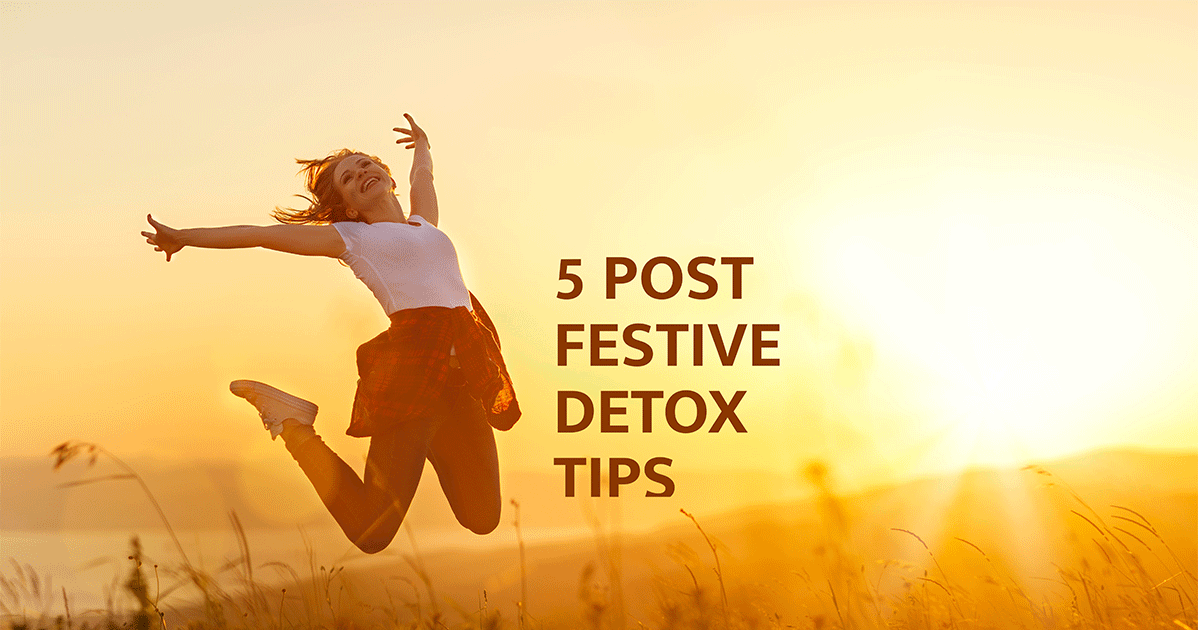 DETOXIFYING HELPS YOU CLEANSE YOUR SYSTEM OF TOXINS, SPEED UP YOUR METABOLISM AND ENHANCE YOUR OVERALL HEALTH
Now that the festive season is over, you may feel it's time for a detox. Detoxification is the body's natural process of removing toxic substances. Unfortunately, the term detox is linked with restrictive diets or juice cleanse diets. The truth is that your body has well-designed detox pathways that eliminate toxins from the body. Your main detoxification organs are the liver and kidneys. They act as filters to remove toxins and waste products.
Knowing that the body detoxifies on its own, you can still support it by adding these nutrition and lifestyle practices.
HYDRATE YOUR BODY
The first and easiest step to well-being is to drink lots of water. Providing enough fluid to your body helps to get rid of toxins since the kidneys do use water to get rid of certain waste products. Also water reduces constipation and helps you get rid of bloating.
Try to drink 2 liters or 6 to 8 glasses of water each day.
EAT WELL
Party food tends to be highly processed and salty, this may lead to dehydration and bloating.
Therefore, balance is the key.
Focus on whole fresh fruit & vegetables (especially the greens) that provide a great source of vitamins, minerals and antioxidants to keep the body healthy and boost the immune system.
Eat more nuts. They're a great plant source of protein, rich in essential fatty acids and they are mood booster.
Add herbs and spices to your food like turmeric, rosemary, thyme, ginger and cinnamon. They are tasty and calories free in addition to their anti-inflammatory properties.
EAT PREBIOTICS AND PROBIOTICS
Prebiotics promote the growth of good bacteria in your body while Probiotics are the good bacteria like those naturally found in your gut.
Prebiotics are found in asparagus, banana, legumes, lentils, sweet potatoes, beans, garlic, onions and other vegetables. Probiotics are found in fermented food like yogurt, kefir and some aged cheeses.
This food helps in regulating digestion, it reduces constipation and it may boost immunity.
Eating a well-balanced diet rich in fiber every day helps to keep the number of good bacteria at proper levels.
MOVE YOUR BODY
During the end of year celebrations, we tend to sit at the table for long periods of time or on the sofa watching television and just eating. So it's time to do some light exercises such as yoga, stretching or walking in the park. These promote blood circulation, improve digestion and reduce stress and anxiety.
The most important thing is to do any physical activity you enjoy.
GET SOME FRESH AIR
Despite the cold season, fresh air is not only good for the body but also for the mind and soul.
Increasing the amount of fresh air can provide greater clarity to the brain, and it helps you to think, focus and concentrate better.
During a walk outside, while relaxing in the sun, vitamin D gets absorbed by the body. Vitamin D known as the sunshine vitamin is essential for optimal health as it plays multiple roles such as promoting healthy bones and teeth, supporting immune, brain, and nervous system health, regulating insulin levels and supporting diabetes management.
The mix of a healthy balanced diet, as well as plenty of fresh air, results in the perfect detoxification.