DUCK SHAWARMA WITH FIG JAM
Serves 4 | Prep/cooking 4 hrs 25 mins + Overnight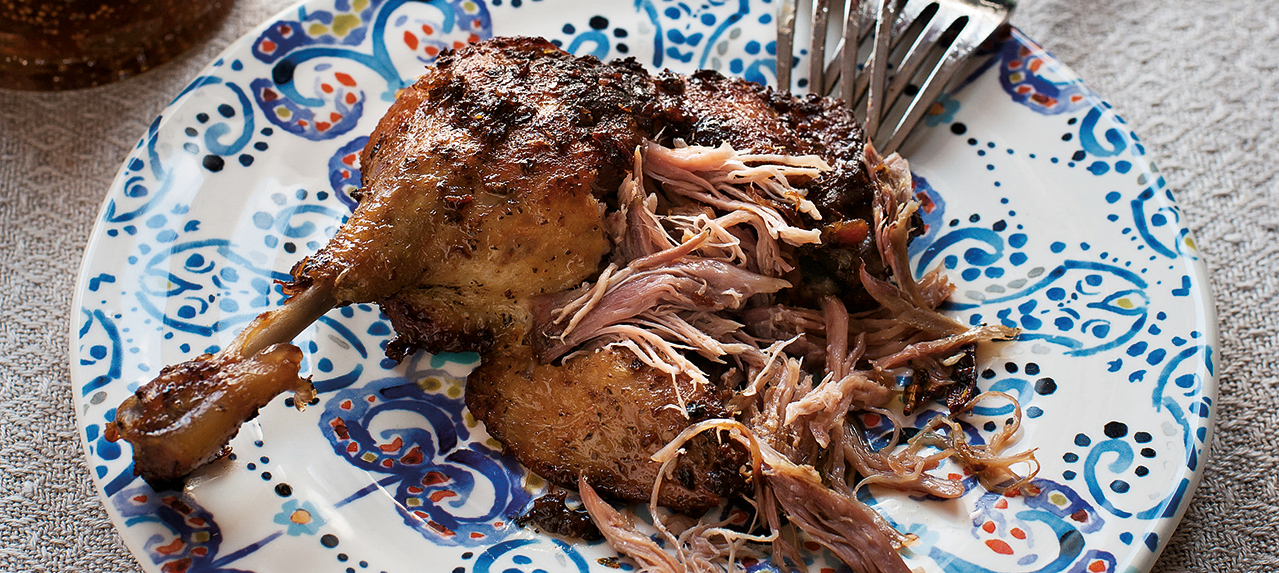 4 tsp sea salt
½ tsp mastic powder
½ tsp ground mahlab or ground almonds
1 tsp ground cinnamon
1 tsp dried mint
2.5cm piece of root ginger, grated
8 garlic cloves, finely chopped or crushed
1 orange juice and finely grated zest
2 cardamom pods, crushed
4 duck legs, skin on
1 tsp orange blossom water
200g dried figs
1 tbsp lemon juice
200g caster sugar
¼ tsp fennel seeds or aniseeds, crushed
4 thin flatbreads to serve
1. Put the salt, mastic powder, mahlab, cinnamon, mint, ginger, half the garlic cloves and the orange zest in a bowl and mix well to make a rub. Crush the cardamom seeds and add to the mixture.
2. Lightly pierce the duck skin all over the legs, being very careful not to puncture the meat, as this would make it toughen during cooking.
3. Rub the spice mixture over the legs, then cover and leave to marinate in the fridge for up to 24 hours. The following day, remove the duck from the fridge and bring it back to room temperature.
4. Preheat the oven to 1400C. Put a heavy-based, flameproof pan over a medium heat, add the duck and sear, skin-side down, until the fat is rendered and the skin is golden and crispy. Flip the duck over so that the skin is now facing upwards.
5. Pour in the orange juice and orange blossom water and scrape up the browned bits from the bottom of the pan. Cover with a lid and bake in the oven for 2 hours until the flesh just falls off the bones.
6. Put the dried figs in a heavy-based saucepan and cover with boiling water. Leave to stand for 5 minutes until the figs have plumped up, then remove, reserving the liquid.
7. Chop the figs into thin strands. Return the figs to the pan with the reserved boiling water and turn the heat to medium. Add the lemon juice, sugar and fennel seeds and stir well. Bring to the boil, then reduce the heat to low and simmer, stirring often, for 15–20 minutes.
8. During the last 10 minutes of cooking the duck, change the oven setting to grill, and grill the duck for the last 3–5 minutes until the skin is crispy and sizzling.
9. Put a spoonful of the fig jam in the center of each flatbread and top with some of the juicy duck flesh and crispy duck skin.