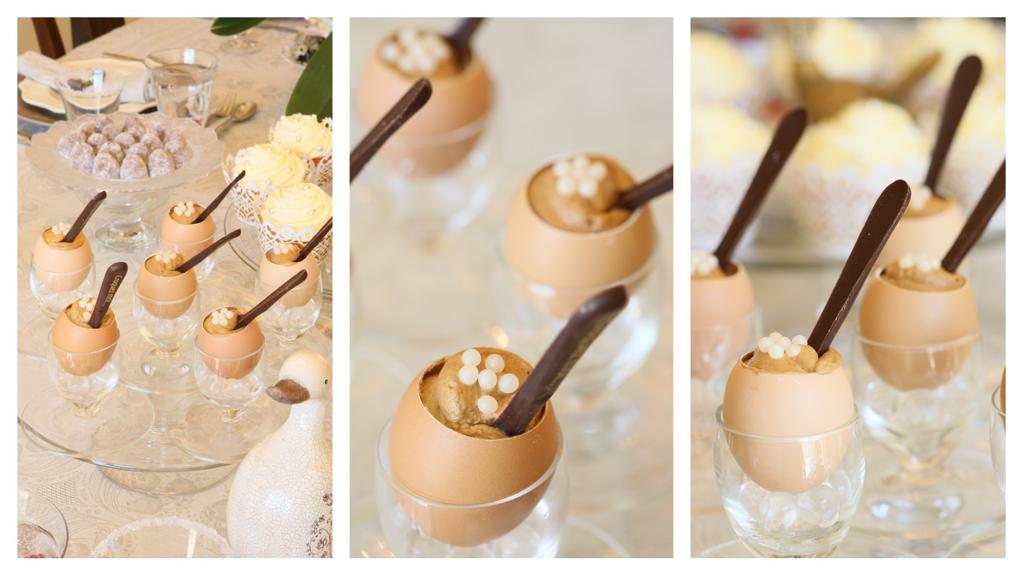 2 tbsp soluble coffee
60 g icing sugar
9 eggs (6 to use as cups, 3 for the mousse)
150 ml of whipping cream
EGGSHELL
Clean 6 large eggs with a cloth soaked in olive oil.
Hole each eggshell with a fine pin, doing it carefully just to have an opening wide enough to contain the coffee foam; when you have pierced the shell, collect the egg in a container and put it in the fridge.
Clean the shell well and use a hand dryer on minimum setting and in cold air, especially not hot, the shell will break.
You can buy chocolate spoons at the supermarket unless you have the spoon-shaped chocolate mold: all you have to do is pour the chocolate in and let sit overnight before unmolding it.
COFFEE MOUSSE
Beat the egg yolks and sugar together until light and creamy.
Pour the liquid cream, heat over low heat until hot, but not boiling.
When the cream is thick, remove from heat and put it in a salad bowl.
Add the coffee and whisk.
In a separate bowl, whip the egg whites until they are stiff. Refrigerate for 4 hours.
Dissolve the instant coffee with little lukewarm water before adding it to the mixture.
Spoon the mousse into the eggshell and allow to set in the fridge for 2 hours. Add the chocolate spoon and top with chocolate sprinkles or small meringues to serve.