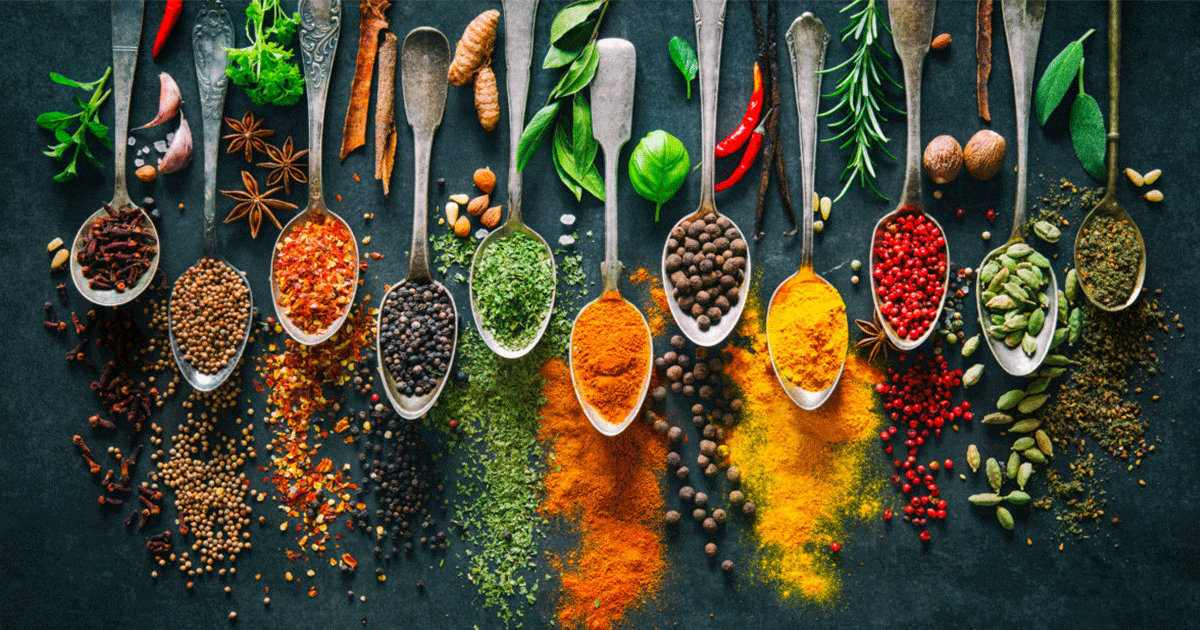 No matter how or what you cook, spices are one of the most crucial elements of your pantry, a tiny amount of spice can dramatically alter a dish, adding distinctive flavor to otherwise bland ingredients. As a rule of thumb, all spices and dried herbs should be stored in a cool, dark place.
PEPPERCORNS
Peppercorns come in several colors, but black is the most common to add flavor and spice to meats, fish, vegetables, salad dressings, soups, stir-fries, pasta, and more.
2. CUMMIN
Cumin works well in a variety of rice dishes, stews, soups, breads, pickles, barbecue sauces, chili con carne recipes and Indian curries.
3. ONION POWDER
Add it into soups and stews, create creamy dips and salad dressings, perk up casseroles and vegetables, or use it as a base for rubs and marinades.
4. CINNAMON
The warm and spicy flavor is essential when baking, but cinnamon is also at home with a range of savory recipes.
5. GARLIC POWDER
Made from finely ground dehydrated garlic, use 1/8 teaspoon garlic powder for every clove of garlic called for in a recipe.
6. RED PEPPER FLAKES
They aren't just for sprinkling on your favorite pizza, it adds a little bit of extra spice to jazz up soups, stews, chili and pasta dishes.
7. CAYENNE PEPPER
Given its Central American origins, cayenne pepper is best known for its role in Mexican cooking, used daily to flavor robust spicy sauces, meat marinades, and traditional dishes like enchiladas, tacos, and fajitas.
8. CURRY POWDER
Adding curry is a great way to easily lend some Indian-inspired flavors to your cooking.
9. TURMERIC
Turmeric is an essential, mildly-flavored ingredient popular in Indian and Middle Eastern .
10. PAPRIKA
Paprika is made from dried peppers—usually tomato peppers. Often used as seasoning, paprika is also a common ingredient in spice blends and rubs, marinades, sauces, and stews, as well as classic dishes like paella and chicken.
11. DRIED BASIL
Dried basil is used to flavor pizza sauce along with other dried herbs like oregano, thyme etc. It is a wonderful seasoning for salads and pastas. Add it to herbal teas for health benefits. Can be used in marinades too.
12. DRIED OREGANO
Some of the most common uses of oregano include tomato-centric recipes, like pizza and pasta sauce, as well as olive oil-based dishes, it is commonly combined with olive oil to create flavorful oregano oil, Italian vinaigrettes, and marinades for lamb, chicken, and beef dishes.
13. DRIED BAY LEAVES
Fresh or dried bay leaves are used in cooking for their distinctive flavor and fragrance. The leaves should be removed from the cooked food before eating.
14. GROUND CORIANDER
Ground Coriander is used to make curries, soups, stews, marinades, spice mixes and sauces. Try using this very versatile spice in your pies, stir-fries or even for salad dressings to give your dish a spicy woody taste.
15. DRIED GINGER
It adds sweetness, warmth and a gentle bite to all sorts of teas, beverages and both savory and sweet recipes.
OTHER ARTICLES YOU MAY LIKE