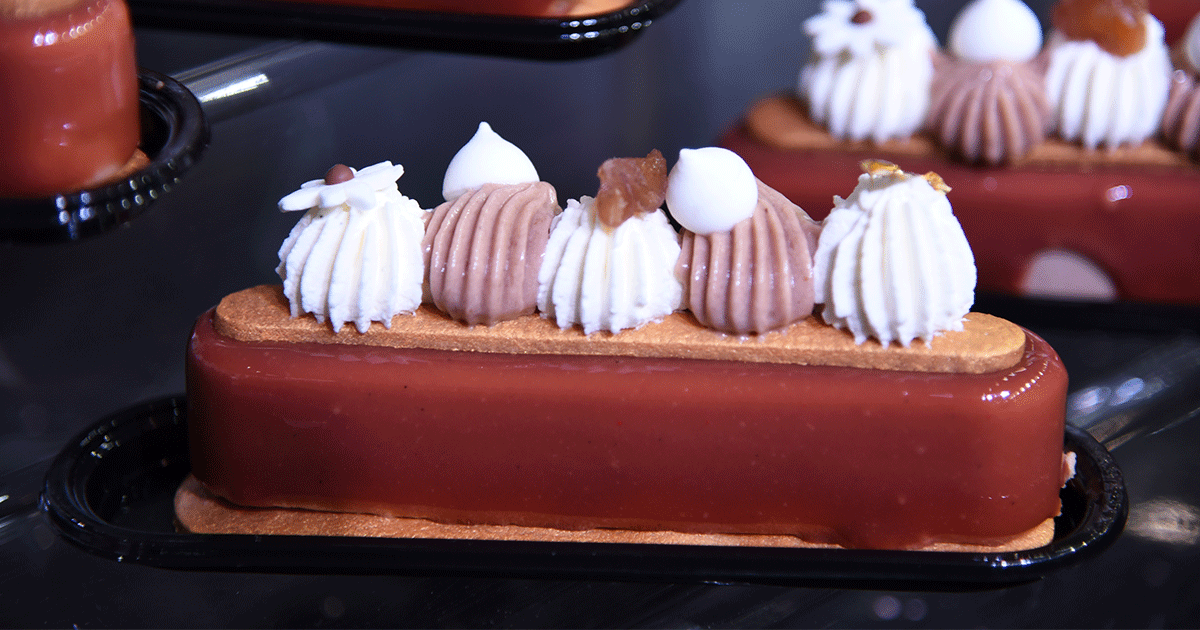 Chestnut biscuit
40g softened butter
180g egg yolks
180g chestnut cream
160g egg whites
80g sugar
90g flour
Black currant compote
200g black currant puree
100g blackberry puree
25g sugar
28g gelatin
3g pectin NH
Chestnut mousse
75g milk
40g egg yolk
70g gelatin
225g chestnut paste
75g chestnut cream
15g Armagnac
150g whipped cream
Milk mirror glaze
150g water
300g sugar
300g glucose
200g condensed milk
300g milk couverture chocolate
1 vanilla bean(goose)
CHESTNUT BISCUIT 
Using a food processor, mix together the butter, yolks, chestnut paste and chestnut cream.
Whisk together the egg whites with the sugar. Mix two mixtures together. Add the sifted flour.
Spread in a 2 cm high "Flexi pat" of 55 cm long by 36 cm.
Bake in a fan oven at 175°C for approximately 15 mins.
Stock for the assembly.
BLACK CURRANT COMPOTE
In a saucepan, boil together black currant and blackberries. Mix together the gelatin, sugar & pectin NH.
Mix well then stock in the refrigerator.
CHESTNUT MOUSSE 
In a saucepan, heat the milk then cook the egg yolks 85°C.
Add the melted gelatin. Pour over the remaining ingredients except for the whipped cream. Mix well.
Cool down at 20°C. Fold through the whipped cream.
Fill 10"mold spheres" and stock the rest for the assembly.
MILK MIRROR GLAZE
In a saucepan, add water, sugar and glucose to 103°C
Pour over the condensed milk and gelatin mass over the milk couverture chocolate.
Mix well and store in a refrigerator overnight. Before using heat the glaze to 40°C.
Use at 30/35°C.
Refrigerate until serving.