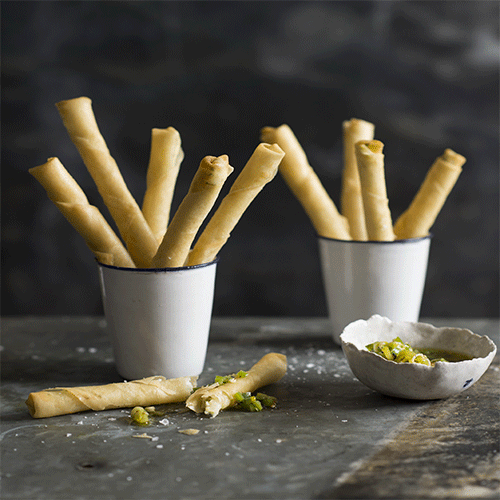 200g rindless goat's cheese, crumbled
1 small onion, grated
2 tbsp shredded tarragon leaves
1 tbsp chopped fresh thyme leaves
Finely grated zest of ½ lemon
2 egg yolks
Salt and freshly ground black pepper
1 heaped tsp cornflour (cornstarch)
3 tbsp water
16–20 spring roll wrappers
1 tsp Extra Virgin olive oil
Vegetable oil, for deep-frying
 Combine the cheese, onion, herbs, lemon zest and one of the eggs in a bowl, then season with salt and pepper and mash thoroughly with a fork.
When ready to assemble, mix the cornflour and water together to make a paste.
Work with one spring roll wrapper at a time, placing it on the work surface so that there is a corner pointing towards you (rather than a flat edge).
Place a spoonful of filling across the corner closest to you, about a quarter of the way in.
Roll this corner up and over the filling, and then for another couple of turns. Bring the two side corners in so they meet in the center, then continue rolling, like a cigar.
Brush the remaining corner with cornflour paste to seal. Repeat until all the filling and wrappers have been used. You're aiming to achieve neat fingers, around 13–14cm long and about 1.5cm thick.
To cook the pastries, pour vegetable oil into a medium, heavy based saucepan to a depth of about 6cm and heat to 190°C.
Fry the pastries, a few at a time, for 2–3 minutes, or until they turn golden brown. Turn them around in the oil to ensure they colour evenly all over.
Drain them on kitchen paper and serve piping hot.
CHEF'S TIPS
Popularly known as cigars, rakakat or Mediterranean cheese rolls, can be made with filo pastry or spring roll wrappers.
Include tarragon in the filling which adds a lovely aniseed note that goes well with the goat's cheese.