التبولة التقليدية
FENNEL TABBOULEH
TABBOULEH FENOUIL
لـ ٤ اشخاص – ٣٥٠ سعرات حرارية لكل حصة
Serves 4 | 350 Calories per Serving
Pour 4 personnes | 350 calories par portion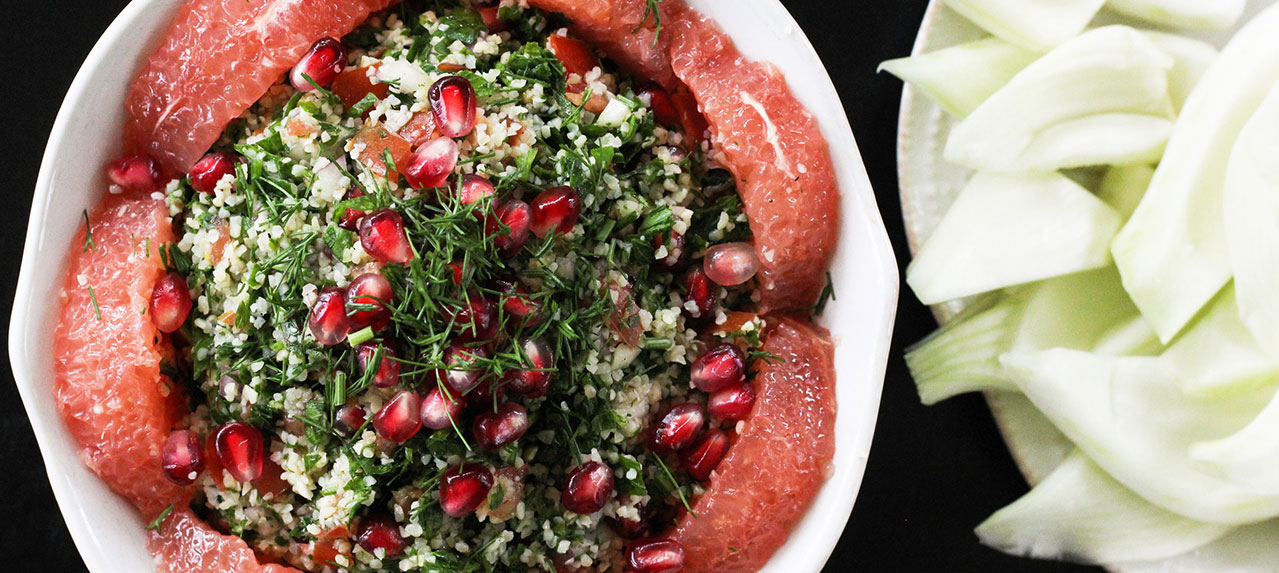 باقة شمر، مفرومة فرماً ناعماً
كوب عدس أصفر، منقوع بين عشية وضحاها
نصف كوب برغل ناعم
كوب من النعناع الطازج المفروم
٢ بصل أخضر، مقطّعة شرائح رقيقة
عصير ٢ حامض
ربع كوب من زيت الزيتون البكر الممتاز
ملح، فلفل أسود مطحون طازج
1 bunch fennel, finely chopped
1 cup yellow lentils, soaked overnight
½ cup fine bourghul
1 cup fresh mint, roughly chopped
2 green onions, thinly sliced
Juice of 2 lemons
¼ cup extra virgin olive oil
Salt and freshly ground black pepper
1 bouquet de fenouil haché finement
1 tasse de lentilles jaunes, trempées pendant la nuit
½ tasse de bourghul fin
1 tasse de menthe fraîche, hachée grossièrement
2 oignons verts, émincés
Jus de 2 citrons
¼ tasse d'huile d'olive extra vierge
Sel et poivre noir fraîchement moulu
١. في وعاء ، يضاف بالترتيب التالي البرغل والعدس والبصل والفلفل
٢. أضف النعناع الطازج والشمر
٣. تحضّر الصلصة في وعاء منفصل: اخلطي عصير الحامض والزيت والملح
٤. أضيفي الصلصة إلى السلطة وتخلط جيدا
٥. يقدم مباشرةً
1. In a bowl, add in following order the bourghul, lentils, onions and pepper.
2. Add the fresh mint and fennel.
3. Prepare the sauce in a separate bowl: mix the lemon juice, oil and salt.
4. Add the sauce to the salad and mix well.
5. Serve directly.
1. Dans un bol, ajoutez dans l'ordre le bourghul, les lentilles, les oignons et le poivron.
2. Ajouter la menthe fraîche et le fenouil.
3. Préparez la sauce dans un bol séparé: mélangez le jus de citron, l'huile et le sel.
4. Ajouter la sauce à la salade et bien mélanger.
5. Servir directement.