FIGS, ROSE WATER WITH PISTACHIO MAAMOUL
Serves 18 | Prep/baking 45 mins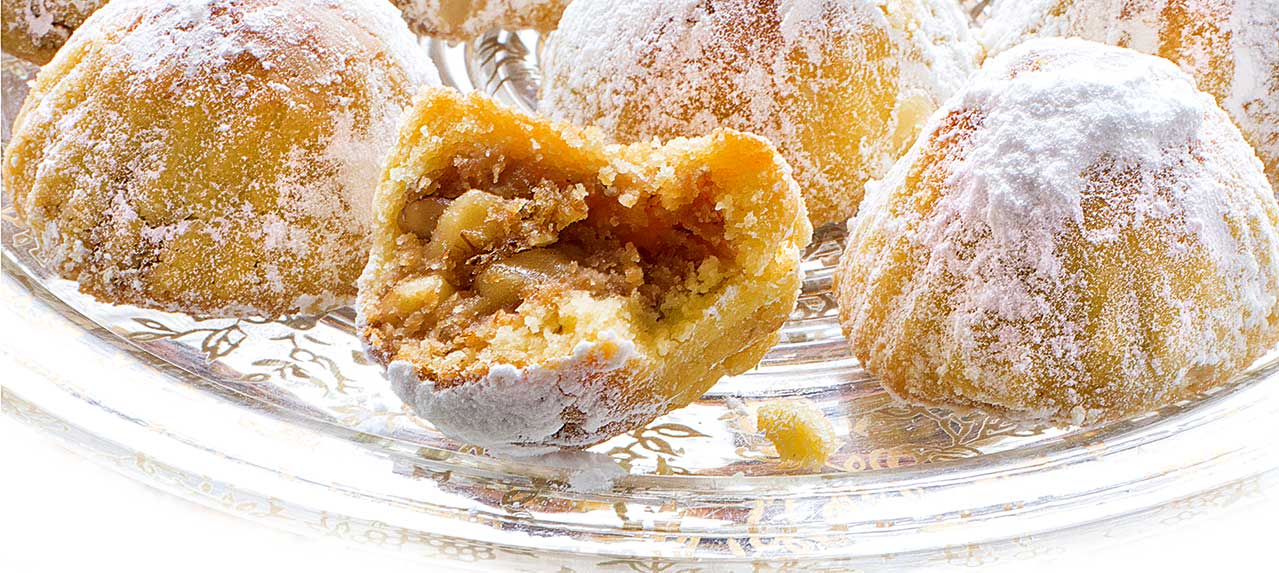 150g unsalted butter
300g fine semolina
1/ 4 tsp salt
75g caster sugar
2-3 drops almond extract or ¼ tsp ground mahlab
60ml rose water
1 tsp fast-action yeast
300g dried figs
50g unsalted butter, softened
½ tsp ground cinnamon
Shelled peeled pistachios, chopped or sliced (optional)
Icing sugar, to finish
1. The night before you want to make the biscuits heat the butter in a heavy-based saucepan until most of the milky solids have disappeared from the bottom then remove from the heat. Put the semolina in a bowl and leave overnight at room temperature.
2. The following day, mix in the salt, sugar, almond extract (or mahlab) and rose water. Dissolve the yeast in 1 tablespoon of warm water then add to the bowl. Cover the bowl and leave for 1-2 hours at room temperature before using.
3. For the filling, gently boil the figs in water, sugar, rose water and cinnamon. Then puree the figs, butter and cinnamon until smooth.
To make individual fig pastries
4. For each pastry, take 30g of dough and roll it into a ball. Place the ball in the palm of the hand, then press into the ball to make a hollow almost through to the other side. Place 20g of fig filling inside, push the pastry gently up around it with your thumb, then pinch the joins gently to seal it. Place on a baking tray lined with non-stick paper, join-end down, and press the prongs of a fork 4-5 times around the sides to make groove impressions.
5. Heat the oven to 160°C/ 140°C fan/ gas 2 ½ and bake for about 25-30minutes or until just beginning to brow on the base and very top. Once cold, dust well with icing sugar, and serve.
6. If you would like to add a crunchy coating of pistachio to your pastries, just press chopped or slivered pistachios on the outside of the dough and bake in the same way. If you want very green pistachios, blanch the shelled nuts in boiling water for 15 minutes, then peel the skin off as this both reveals and intensifies the green colour.