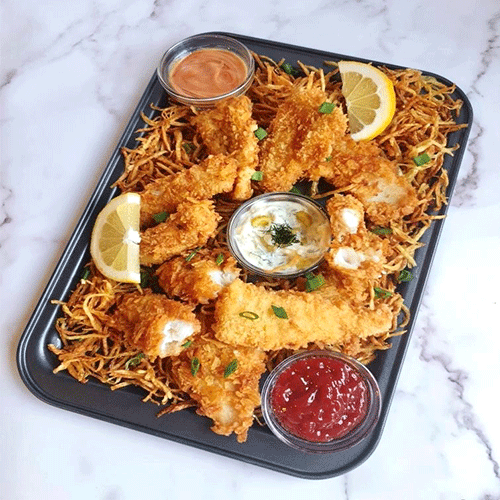 Fish
2 larges fish fillets (cut into pieces of 3 cm each)
3 tbsp flour
2 eggs
1 cup crushed chips
1/2 tsp salt
1/4 tsp cumin
1/4 tsp white pepper
1/4 paprika
Chips
2 large potatoes thinly cut
1/4 salt
1/4 paprika
1/4 garlic powder
1 tbsp vegetable oil
Tartar sauce
1 tbsp. mayonnaise
1/4 tsp dill (chopped finely)
1 tbsp. chopped pickles
1 tsp lemon juice
Fish
Start by seasoning the flour with spices.
Dip the fish pieces in flour then in the eggs then in the chip crumbs.
Preheat oil and fry deep.
Chips
Mix the potato chips with all spices and oil.
Preheat the oven, place the chips in a large pan (spread in a thin layer).
Bake until gold and crispy.
Tartar sauce
Mix together all of the ingredients in a small bowl and serve straight away or store in the fridge until needed.
OTHER RECIPES YOU'LL ENJOY BY MAMA ZEE KITCHEN