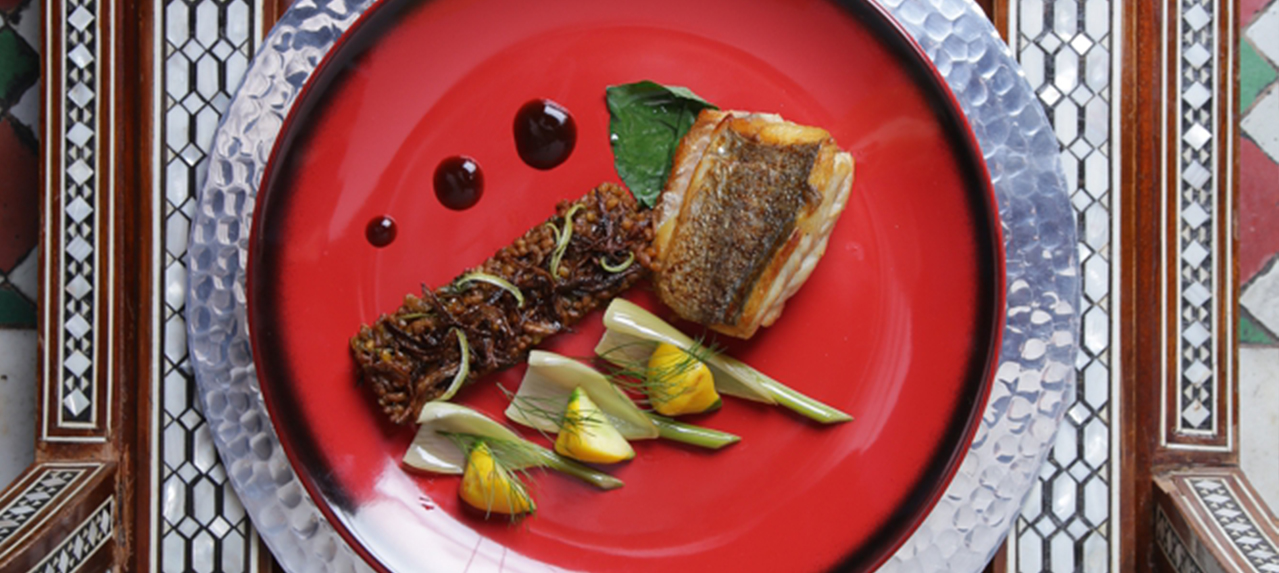 • 2 kg fish grouper or brown-spotted cod fish (hamour)
• 300g large-grain bulgur
• 100g fennel
• 30g dill
• 500g Swiss chard
• 600g onion
• 50g butter
• ½ cup lemon juice
• 50g flour
• ½ cup olive oil
• 15g cumin powder
• 5g curcumin powder
• 15g salt
• 2g cinnamon
• 3g black & sweet pepper
• 1 baby squash
1. For the fish stock, debone the fish into fillets, pan fry the bones, then add water to create a bouquet garnis stock. Fry the onions, then add to the stock and boil for 20 minutes.
2. Rinse the bulgur, fry the onion, fennel, and Swiss chard in olive oil; add seasoning. Add the bulgur, then stir for a few minutes, then add the fish stock.
3. Add salt and dill and cook slowly for 20 minutes. Add a teaspoon of lemon juice.
4. Put seasoning on the fish, pan fry the fillet in olive oil, skin side down for 3 minutes. Put in wax paper and bake in the oven for 6 minutes at 180°C.
5. For the sauce, put butter in a casserole and stir well with flour until it turns brown. Pour the stock slowly while operating into a hand mixer until the mix thickens.
6. Add seasoning, put aside and add lemon juice. Serve hot with baby squash and fennel.