FREE FORM STRAWBERRY TART
Serves 8 to 10 | Prep 30 mins/cooking 40 mins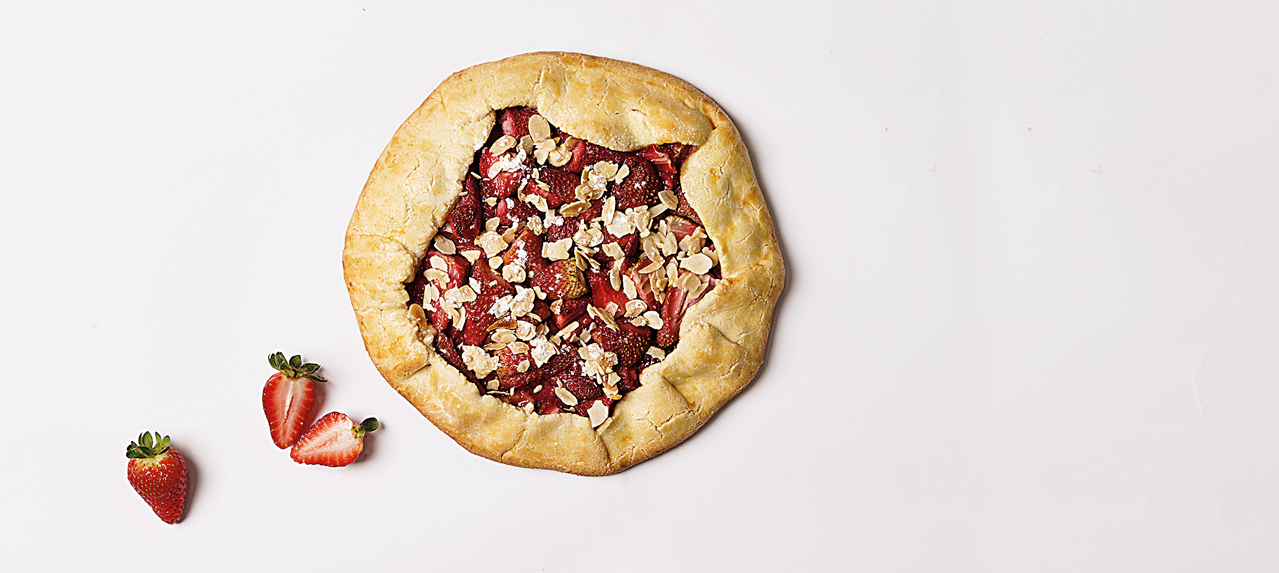 For the sweet- crust pastry
• 90g unsalted butter, chilled and diced
• 65g caster sugar
• 3 egg yolks
• 200g plain flour, plus extra for dusting
For the filling
• 300g strawberries, hulled and
sliced lengthwise
• 75g caster sugar
• 30g corn flour
• 30g ground almond
• 1 egg beaten
• 20g toasted flaked almonds
1. In a mixing bowl with a paddle attachment, cream the butter and sugar together in a bowl until well combined. Beat in the egg yolks, one at a time until fully incorporated into the mixture.
2. Sift the flour and mix it into the mixture, the dough should come together to form a ball shape. Tip
the pastry out onto a floured work surface and knead briefly until smooth.
3. Wrap the pastry in cling film and chill for at least 30 minutes. In the meantime, make the filling, in
a medium bowl. Combine the strawberries, sugar and corn flour. Set aside.
4. Roll out the pastry dough – using a floured rolling pin, on a large sheet of floured baking paper to
a circle about 30 cm across. Upturn the pastry and paper onto a baking tray. Peel off the paper.
5. Sprinkle the center of the pastry with ground almond. Pile the prepared fruit in the center of the
pastry leaving a wide boarder and fold the pastry edges up and over the fruit.
6. Using a pastry brush, brush the edges of the crust with egg. Bake for 30 minutes, until the pastry
is golden. Sprinkle with toasted flaked almonds and serve immediately.