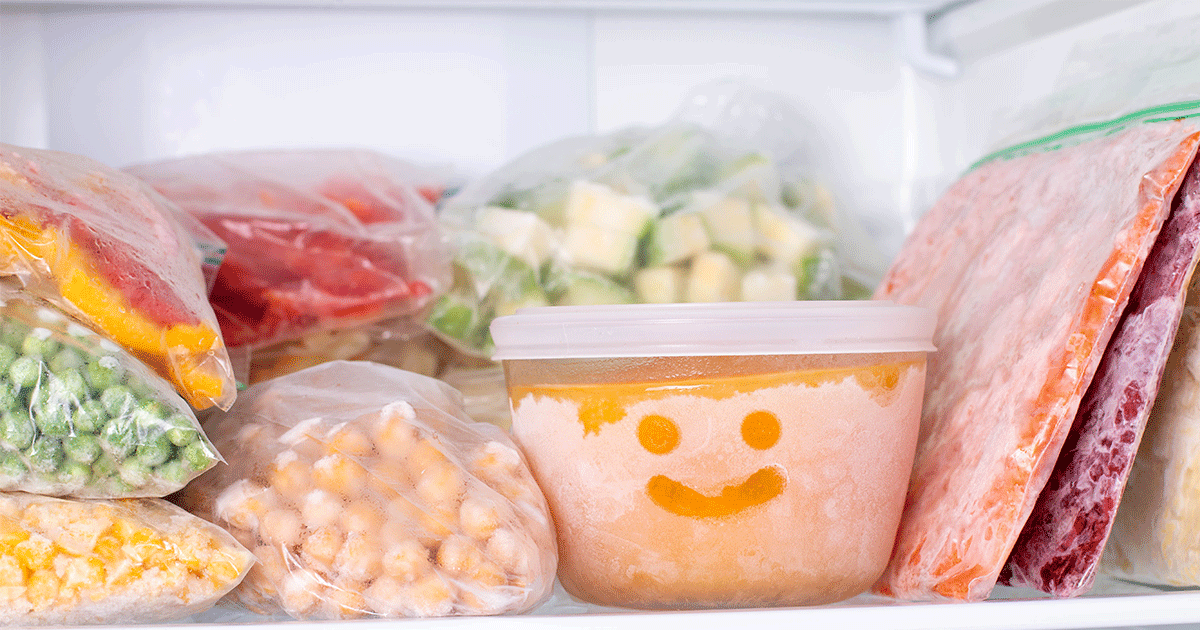 6 FREEZER TRICKS TO SAVE YOU TIME AND MONEY
Make the most of your freezer with these genius freezer tips to help you prepare ahead, preserve food and save money
FREEZE LIQUIDS IN USEABLE PORTIONS
If you make yourself a large batch of stock, freeze it in convenient portion sizes in the freezer—ice cube trays and half-pint deli containers are great for this—then transfer them to a plastic freezer bag to be pulled out and used whenever you need fresh stock.
You can even freeze wine in ice cube trays and stores them in the freezer, ready to be pulled out one at a time and added to pan sauces and stews, saving you from having to open a whole bottle every time a recipe calls for some wine.
PRESERVE SPACE: FREEZE AS FLAT AS POSSIBLE
One more freezer trick: freeze things flat and stack them. Whether it's soups, stews, or ground meat, the flatter and wider you can get them, the faster they'll freeze and defrost, which not only makes you more efficient, it also improves the quality of the food.
If you have a vacuum sealer, use it, otherwise fill ziplock or sealable freezer bags, lay them flat on the countertop and press out any excess air in them.
DEFROST MEAT ON ALUMINUM TRAYS
The fastest way to defrost meat is under a cold running tap. Otherwise place your meat on an aluminum sheet tray or skillet, because aluminum is a great conductor of heat and will draw energy from the surrounding environment into your frozen meat much faster than a wooden cutting board or wood or stone countertop. It also works on anything frozen flat.
PARTIALLY FREEZE MEAT BEFORE CUTTING
Slicing meat to grind or cook in a stir-fry can be tricky even with a sharp knife. To make it easier, place the meat in the freezer for 10 to 15 minutes to stiffen it up.
FREEZE YOUR STOCK
If you're lucky enough to have leftover chicken or meat bones from chicken make a basic chicken or meat stock and freeze it.
Reduce the stock in a saucepan until really concentrated to maximize the flavor, then freezing it in ice cube trays until completely solid, this way it takes up much less space in your freezer. Once solid, decant stock cubes into a freezer bag.
You can freeze vegetables for stock also. If you've got onions, carrots or celery that are looking a bit past their best, cut into large chunks and pop into a bag to freeze.
SAVE YOUR CHEESE RINDS
Save your cheese rinds after you finish off the cheese and store it in a sealed bag in the freezer. It can be used to add intense flavor to broths, soups, stews and pasta.