FRESH CHEESE, WATERMELON & CHAMOMILE
Serves 1 | Preparation Time 25 mins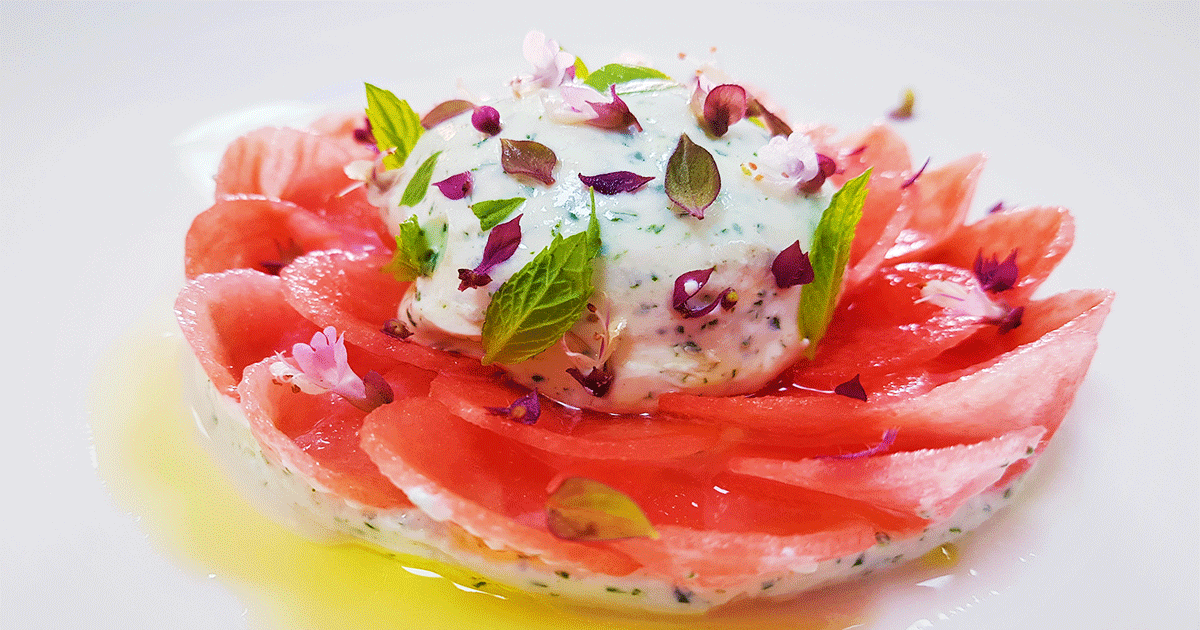 Fresh cheese
700 g whole milk
30 g cream
15 g buttermilk
3 g rennet
Dash salt
Dash green herbs (chive, tarragon, mint)
1 kg watermelon without seeds (Australian brand)
Broth chamomile
1 L water
35 g green chamomile
2 g dried chamomile
8 g honey
2 tsp lemon juice
3 tsp olive oil
salt
Fresh cheese
Heat the milk in a pan at 30°C.
Add the cream and buttermilk then add the rennet. Do not stir the mixture.
Heat the oven at 70°C.
Pour the cheese into a covered silicon food container and put in the oven for 1 hour (or until it has the consistency of fresh cheese).
Add the herbs and divide into 2/3 and 1/3 batches.
Refrigerate.
Broth chamomile procedure
Boil the water. Add the chamomile and honey.
Remove from the heat and infuse for 8 hours. Strain and set aside.
Season with salt, oil, lemon juice and cool down at room temperature.
Watermelon
Use the mandolin slicer to shape the watermelon as leaves.
Marinated with the broth chamomile and set aside.
Assembling & serving
Place 2/3 cheese in a round mold.
Place the watermelon shape leaves on top of the cheese.
Use a spoon to put the rest of the cheese on top.
Decorate with herbs.