FRUIT GÂTEAU WITH DOCELLO® CRÈME BRÛLÉE
SERVES 40 | CALORIES PER SRVING 330 Kcal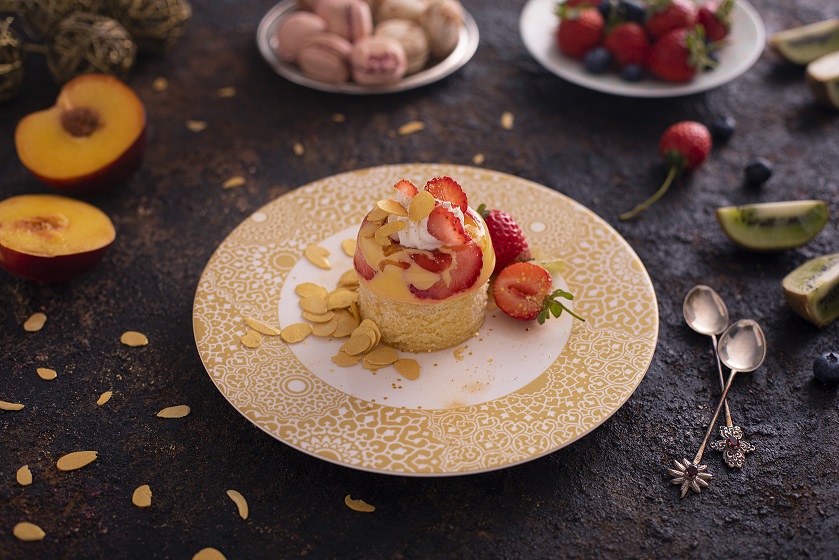 Sponge Cake
310g all purpose flour
15g baking powder
310g butter, softened
310g caster sugar 310 g
380g eggs
Set Custard
340g Nestle Docello Creme Brulee dessert powder
1350 ml milk
675 ml whipping cream
40g gelatin sheets
135g fresh strawberries, sliced
40g glace cherries, chopped
40g canned peach, cut in chunks
Garnish
810ml whipping cream
80g caster sugar
160g flaked almonds
270g assorted fresh fruits for garnish, kiwis, assorted berries, mangoes etc.
For the Sponge Cake          
Preheat the oven to 160°C. Grease and prepare the baking tin.
Sift the flour and baking powder into a bowl; add the butter, sugar, and eggs. Beat till the mixture is pale and slightly glossy.
Spoon the cake mixture into the prepared tin, and smooth the surface.
Bake for 10-12 minutes till firm and done. Allow to cool completely.
For the Set custard
Soak the gelatin in cold water and set aside.
Prepare the Nestle Docello Creme Brulee Dessert Powder as per the instructions on the
Remove from the heat; squeeze the excess water from the soaked gelatin and add in to the heated mixture and dissolve completely. Allow to cool.
Assembly and Finishing
Line the cake at the base of mould being used for assembly.
Line the sides of the mould with the sliced strawberries.
Layer the cake base with mixed fruits.
Add in the custard. Freeze to set.
Place chilled cream and sugar in a mixing bowl, whisk until stiff peak stage.
De mold the dessert and garnish with whipped cream and fresh fruits.
Coat the sides of the cake with flaked almonds to finish the sides. The flakes can be toasted in a preheated oven at 160°C until golden brown, if desired.
OTHER RECIPES YOU MIGHT LIKE