GALETTE BRETONNE WITH LEMON FRANGIPANE
SERVES 6| PREPARATION TIME:  20 MINS | BAKING TIME: 20-25 MINS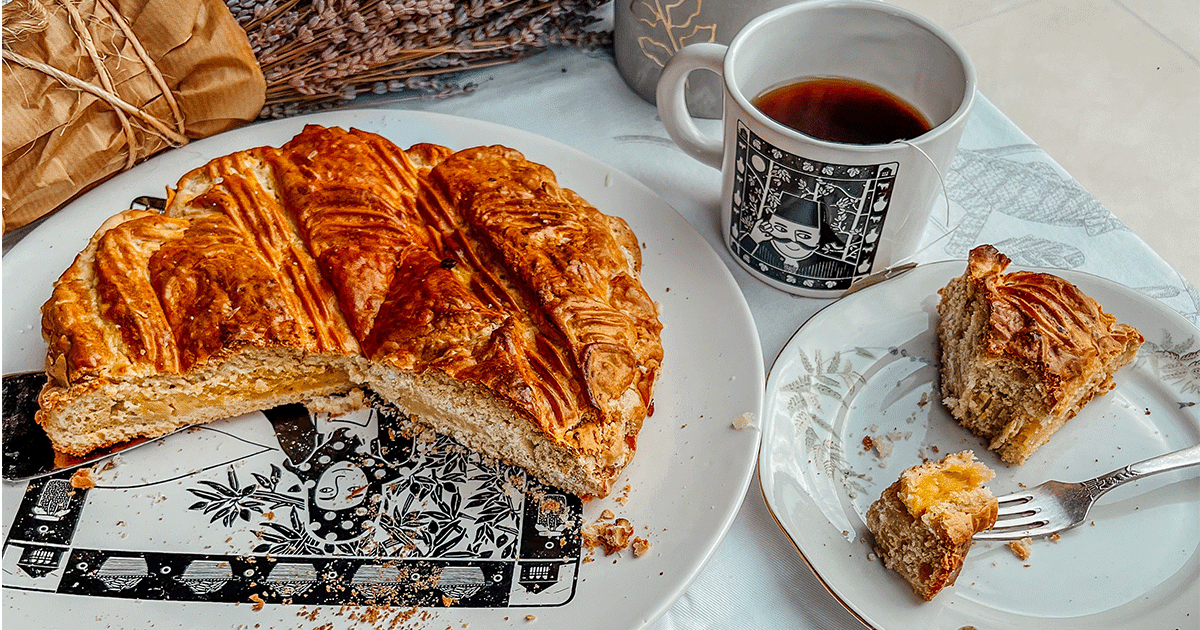 1 charm, almond or dried bean
Frangipane
50 g almond meal
50 g margarine or butter at room temperature
50 g sugar
1 egg
1 lemon (zest and juice)
Galette
300 g gluten free all-purpose flour
100 g margarine or butter at room temperature
100 g sugar (brown, raw or cane sugar)
2 eggs
2 tsp baking powder
2 pinches of salt
100 ml warm water
1 egg yolk for the brushing of the crust
Frangipane
Combine the fat with the sugar, and whisk until it turns lighter in color.
Add the almond meal, the egg and mix.
Add the lemon zest and slowly the lemon juice.  Refrigerate.
Galette 
Whisk the eggs with the sugar until it's light and fluffy.
Use another bowl to mix the flour with the baking powder and add the butter.
Combine it to the egg mixture and whisk so it becomes one dough.
Add a pinch of salt, the warm water and mix.
Preheat the oven to 180 °C.
In a cake tin or pie tin, pour half of the galette batter, then spread out the frangipane. Press the charm into the filling.Pour the rest of the cake batter.
Beat the egg yolk and brush it over the top. Use a fork to make a crisscross pattern in the egg wash.
Bake for 20 to 30 min.
HEIDI'S RECOMMENDATION
Unlike the traditional Galette des Rois, the Galette Bretonne is made without pâte feuilltée and yet keeps a very light aspect, the secret to it is whisking those eggs till they become extra fluffy.
OTHER RECIPES YOU MAY LIKE