GLUTEN FREE, VEGAN & HEALTHY
SERVES 8 | PREPARATION TIME:  2 HRS | BAKING TIME: 10 MINS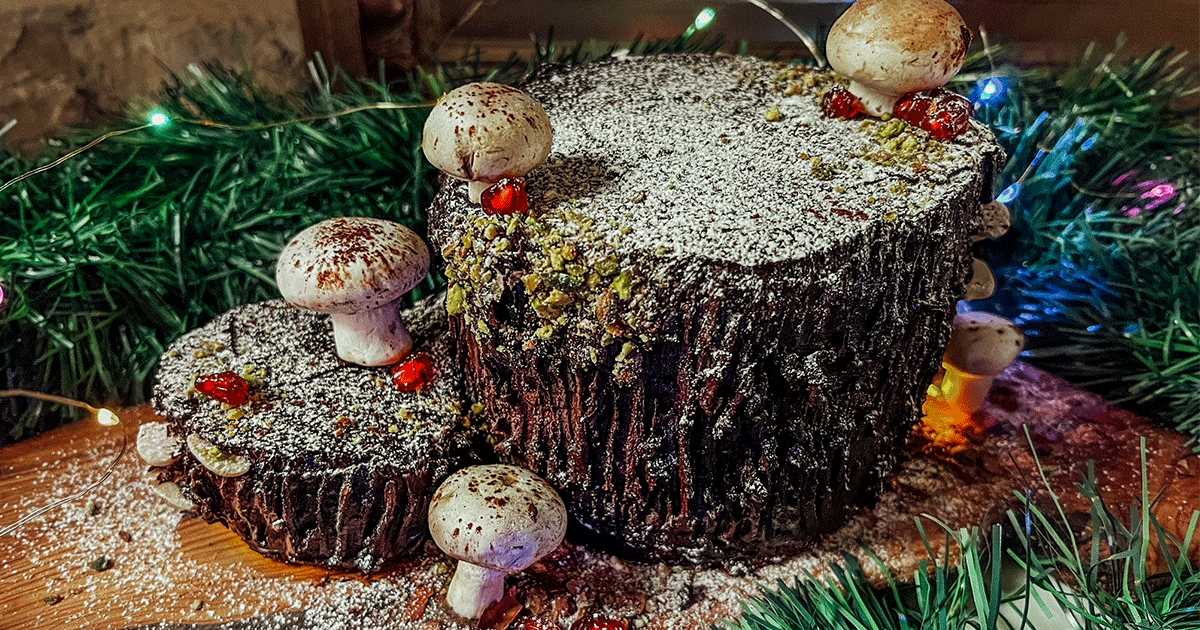 Sponge cake
50 g vegan butter or margarine
200 ml vegan milk of your choice
300 g of gluten free flour mix
200 g coconut sugar
2 tsp baking powder
1/2 tsp salt
Filling
1 refrigerated coconut cream can or vegan cream or silken tofu
200 g coconut sugar
1 tsp vanilla extract
2 tsp instant coffee (3 for coffee lovers)
1 tbsp. cacao powder sifted
1 pinch Himalayan salt
Frosting
200 g dark chocolate
100 g vegan butter or margarine or coconut oil
To decorate
Crushed pistachio
Real or fake mushrooms
Meringue
Pomegranate
Icing sugar
Sponge cake
Preheat the oven at 250°C.
Combine the dry ingredients.
Melt the butter and add the milk. Whisk together and set aside.
Add the dry ingredients and mix using an electric whisk to make sure there are no lumps in the dough.
Cover your baking tray with baking paper and pour the mixture.
Bake for 7 to 9 minutes.
Filling
If you choose the coconut as ingredient, watch out not to use the liquid.
Whip up the vegan cream (or slken tofu) with the electric whisk to obtain a smooth texture.
Add coconut sugar, vanilla extract, coffee, cacao and salt.
Refrigerate for an hour.
Finishing
Once the cake is cool, cut it in half and cut a little piece from one of the parts, to use it as the mini stump.
Start covering the cake with the filling and slowly, gently, start rolling.
Once you've reached the end of the first roll, add the second part to it, it's a stump, not a bûche so it has to be large. Don't forget the mini stump.
Refrigerate for at least 30 minutes.
Frosting
Combine the chocolate with the vegan butter (or margarine or coconut oil) over low heat to obtain a semi liquid consistency.
Cover the cake with the melted chocolate. Use a fork when the chocolate starts drying up a little doing vertical gestures.
To decorate
Use crushed pistachio to look like moss and add mushrooms (fake mushrooms or even real mushrooms) meringue and some pomegranate for a boost of color.
Sift a little icing sugar on top so it looks like snow.
HEIDI'S RECOMMENDATIONS
. Use Himalayan salt because it's filled with happy minerals.
. For a lighter and fluffier filling, use dairy free whipped cream or cold coconut cream.
OTHER YULE LOGS YOU MAY LIKE