GOAT'S LABNEH & APPLE WITH BLUEBERRY DRESSING
Makes 12 | Preparation 25 mins Cooking 10 mins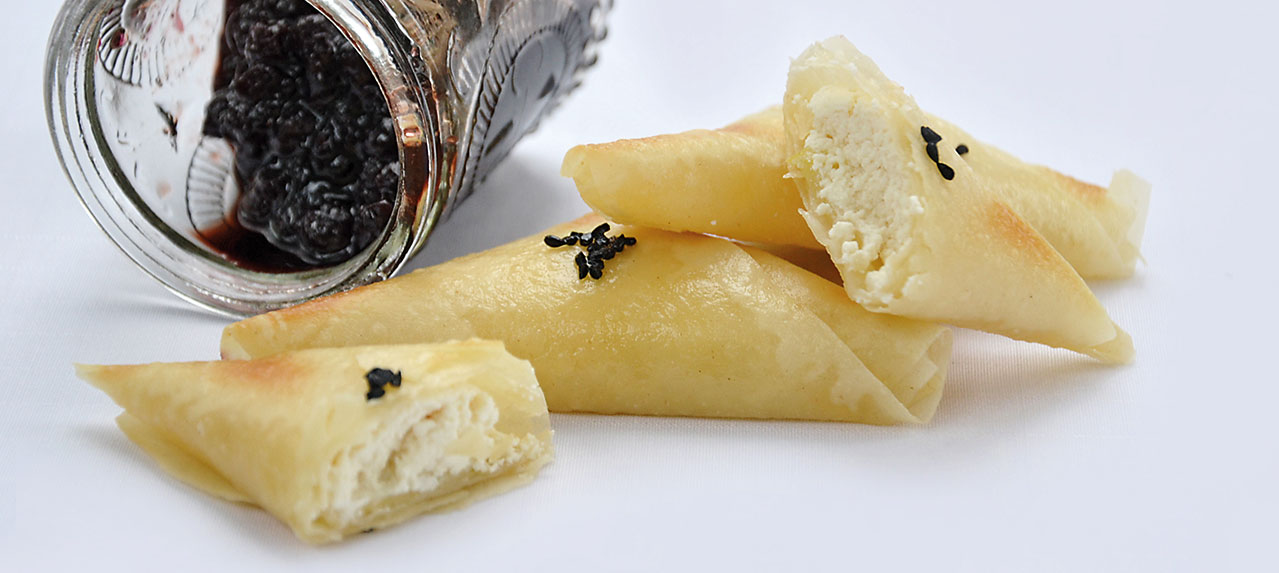 12 long filo pastry sheets (or samosa leaves)
6 tbsp goat's labneh
1 green apple, sliced into very thin wedges
3 tbsp salted butter, melted
1 tbsp nigella seeds
2 tbsp blueberry jam (jam with whole
fruits is preferable)
2 tbsp balsamic vinegar
1. Spread out one filo sheet and brush with melted butter.
2. Keep the remaining sheets covered with a damp tea towel to prevent them from drying.
3. Place a slice of apple at one end of the pastry and top with one teaspoon of labneh.
4. Starting from the same end, roll the pastry into a triangle then keep going until you have used up all the sheet and it has formed a triangle.
5. "Glue" the end with a brush of melted butter. Repeat the process with the remaining sheets of pastry.
6. Place them on a baking tray and top each triangle with a pinch of nigella seeds. Bake in the oven for around 10 minutes or until they are crisp.
7. Mix the blueberry jam with the balsamic vinegar gently until combined.
8. Serve the dressing with the labneh triangles.