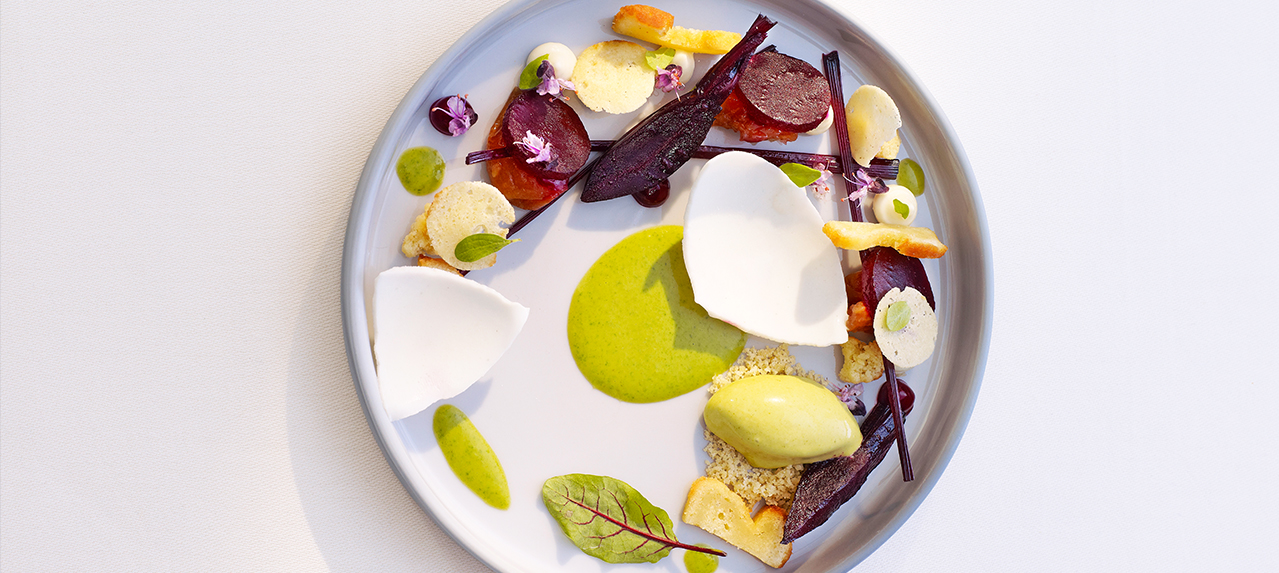 Beet root stems
• 300g beet stems
• 100g beet juice
• 100g syrup
• 100g olive oil
• Marjoram
Gorgonzola bisquit (slices, chips, crumble)
• 300g butter
• 300g gorgonzola
• 130g egg yolk
• 400g sugar
• 190g egg white
• 80g flour
Mini beet sous vide
• 10 piece baby beets
• 150g beet juice
• 20g olive oil
• 2 piece marjoram
Pistachio ice cream
• 310g water
• 40g sugar
• 25g dextrose
• 50g pro crema
• 10g glycerin
• 85g pistachio
• 100g toasted pistachio
Garnish
• Small marjoram leaves
1. Beet stems: Vacuum the stems with the liquid and cook them in sous vide bath for 20 minutes at 92°C. Refresh in ice. Glaze them with their cooking liquid. Mini beet sous vide: Cook for one hour and 30 minutes at 92°C in sous vide bath. Glaze with cooking liquid.
2. Beet crème: Proceed in the same way as with the baby beets but using big beetroot. Cut them in 1cm thick pieces and cook in steam oven for two hours. Make a cream out of them in a thermomix. Passing the puree through a sieve to texturize.
3. Gorgonzola bisquit: Make a genoise 4/4 plum cake style with the cheese and eggs. Whip the egg whites and incorporate towards the end. Cook at 170°C for 30 minutes. Make the chips by slicing very thin slices of frozen biscuit and put in kitchen dehydrator for 24 hours at 45 degrees.
4. Pistachio ice cream: Mix the ingredients in thermomix at 50 degrees and refresh immediately. Mix with the pistacho praline and make a fine cream. Vacuum pack the ice mix and put it in the fridge for 24 hours.