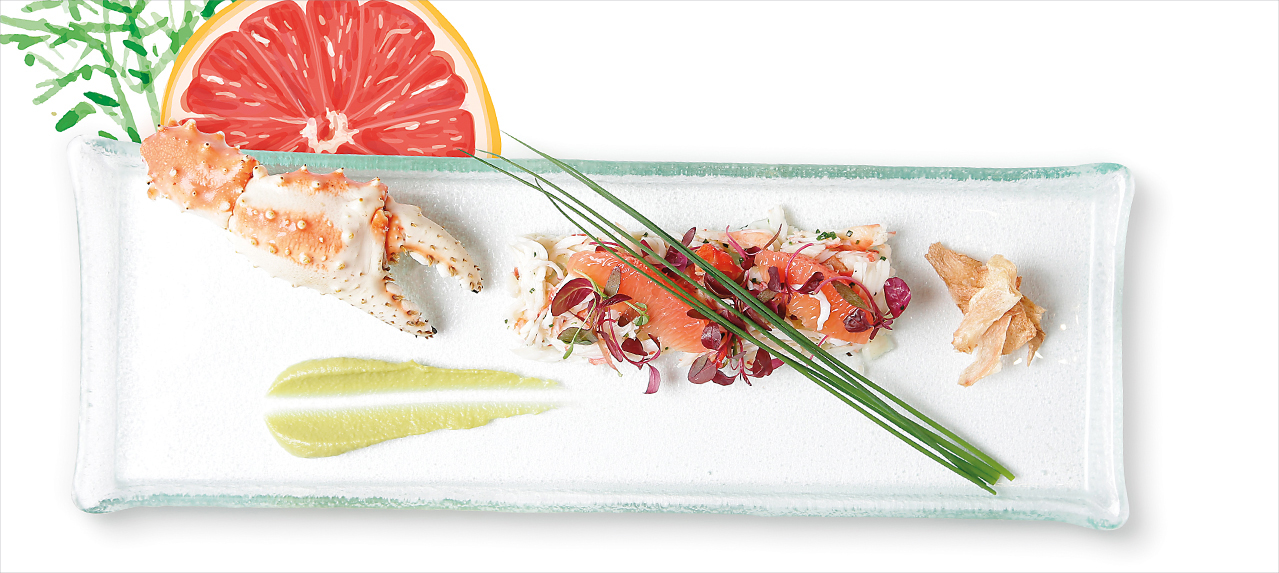 • 600g Alaskan king crab legs
• 200g avocado
• 120g lemon
• 200g grapefruit
• 80g fried artichokes
• 100g baby leaf salad
• Organic sprouts
 Vinaigrette
• 2 tbsp fresh lemon juice
• 2 tbsp fresh lime juice
• 1 tbsp orange juice concentrate
• 1 tbsp finely minced fresh ginger
• 2 tbsp Dijon mustard
• 1 tbsp honey
• 1/3 cup salad oil or light olive oil
• ¼ tbsp salt
• Pinch of cayenne
1. Make the vinaigrette first: In a small bowl, whisk together all ingredients until well combined. Cover and refrigerate until ready to serve. You can make the vinaigrette up to three days in advance.
2. Using kitchen shears, cut the crab shells open and remove crabmeat from shells. Chop or shred meat and marinate into vinaigrette.
3. Cut the peel and all the white pith from the grapefruit; cut out the grapefruit segments and place in a bowl; set aside. Cut the avocado in quarters; peel and mash it with lemon juice, salt and black peppercorn. Dress the crab on the plate.
4. Toss the baby leaf salad with half of the vinaigrette; place the greens in high mounds and pull some chives to the top. Spread the avocado guacamole. Add the grapefruit segments on top. Use the remaining salad dressing to drizzle over the top of the crab. Finish with fried artichokes.