GRILLED BEEF SHIELDED WITH PORCINI MUSHROOMS
Serves 1 person | Preparation 20 mins Cooking 15 mins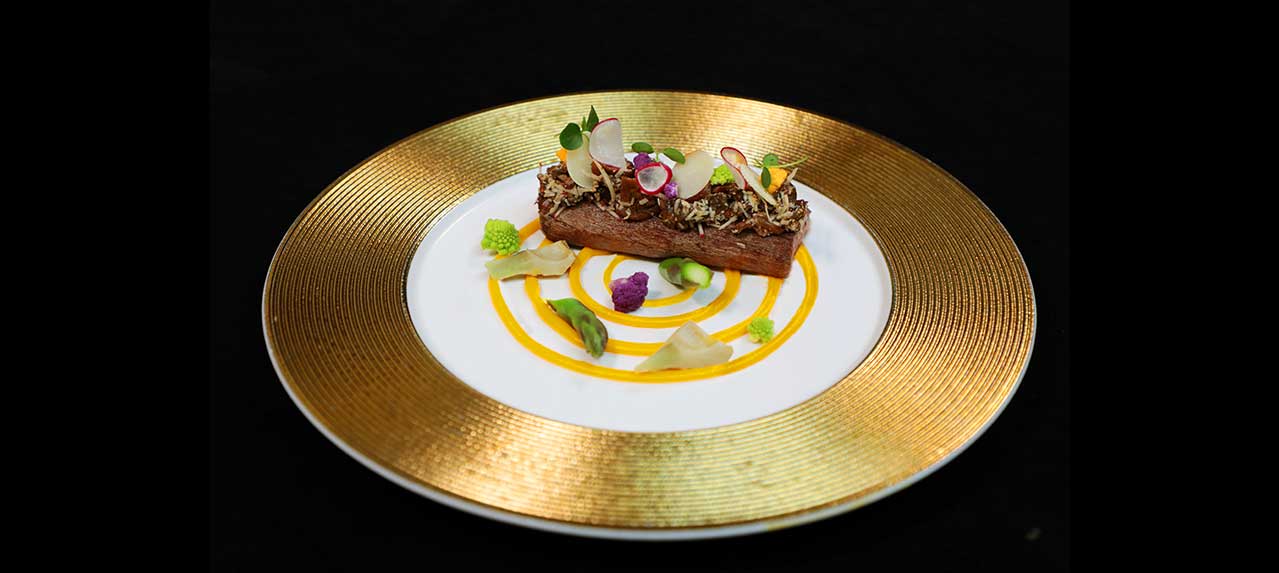 140g Beef filet
15g Romanesco
15g Purple cauliflower
70g Mashed butternut
60g Porcini mushrooms
5g Radish
40g Artichoke
35g Asparagus
25g Parmesan
10g Balsamic sauce
Salt
Pepper
1. Cover the pan with olive oil and butter.
2. Sear the beef with some salt and pepper using the tongs for 3 minutes.
3. Place the beef in the oven for 10 minutes at 185 degrees.
4. Fry the mushrooms with parmesan and balsamic sauce.
5. Add the porcini mushrooms at the top of the filet.
6. Decorate the Filet as shown in the figure with radish and parmesan.
7. Blanch the artichoke, asparagus and the cauliflower.
8. Boil the butternut for 15min.
9. Mash the butternut using a mixer or thermo-mix.
10. Add to the mashed butternut salt, pepper and olive oil.
11. On the serving plate place the butternut puree in the middle drawing circles as shown in the figure.
12. Add the beef filet and the other blanched vegetables as shown in the figure.