GRILLED CHICKEN FASSANJOUN
Serves 12 | Prep/cooking time 48 mins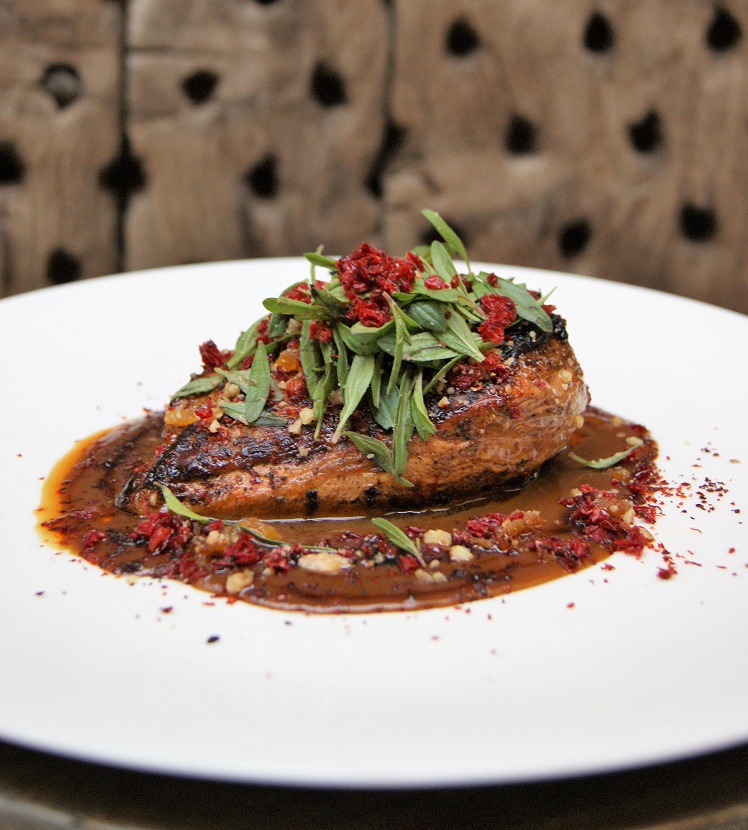 Chicken marinade
12 X 200g deboned chicken breasts with skin
12 tbs yogurt
3 tbs pomegranate molasses
2 tbs sumac
1 tbs pomegranate peel powder
2 tbs Aleppo pepper
1 tsp hot chili powder
1 lemon juice
Chicken fassanjoun sauce
1 L chicken demi-glace
500 ml chicken broth/stock
250 g walnuts
200 ml vegetable oil
3 cloves garlic chopped fine
3 large onions minced fine
100 g ginger fresh cut fine
300 ml pomegranate molasses
1 L pomegranate juice
250 ml apricot puree
2 lemon juice
Salt & pepper to taste
Saffron rice
1 kg basmati rice
1.5 chicken stock
Pinch Persian saffron threads
100 ml extra virgin olive oil
Salt & pepper to taste
Chicken fassanjoun garnish
Grinded walnuts, fine cut apricots & barberries
With zaatar leaves
For the chicken, marinate all the chicken ingredients together. Mix well and place in refrigerator.
For the fassanjoun sauce, in a food processor grind the walnuts. Remove and set aside. Mince and cut the onion. Peel the ginger and cut fine. Peel the garlic, crush and cut fine. Sauté the onions with vegetable oil until translucent. Add the garlic and ginger and cook for 1 minute. Add the walnuts. Mix well.
Add the chicken sauce (demi-glace) with pomegranate molasses, apricot puree, pomegranate juice and lemon juice. Add the chicken stock and season with salt and pepper. Bring to a boil and let simmer for 2 hours. When the sauce has thickened check seasoning and taste. The sauce needs to be consistent and thick. In a blender, blend gradually the sauce until smooth. Strain in a chinois and set aside.
For the chicken, prepare the charcoal and season the chicken. On a low fire, grill the chicken skin side down. After 5 minutes, turn onto other side and cook for further 5 minutes.
For the saffron rice, sauté the rice in olive oil and toss well. Add the boiling chicken stock. Add the saffron threads. Season with salt and pepper. Cover, and cook on low heat for 18 minutes. Fluff the rice.
To serve, place the chicken fassanjoun sauce on a the bottom of plate and add the chicken breast on top. Garnish with the mix blend of walnuts, apricots, barbarries and zaatar leaves.
Chef's Tip
THIS DISH CAN BE SERVED WITH RICE ON THE SIDE.