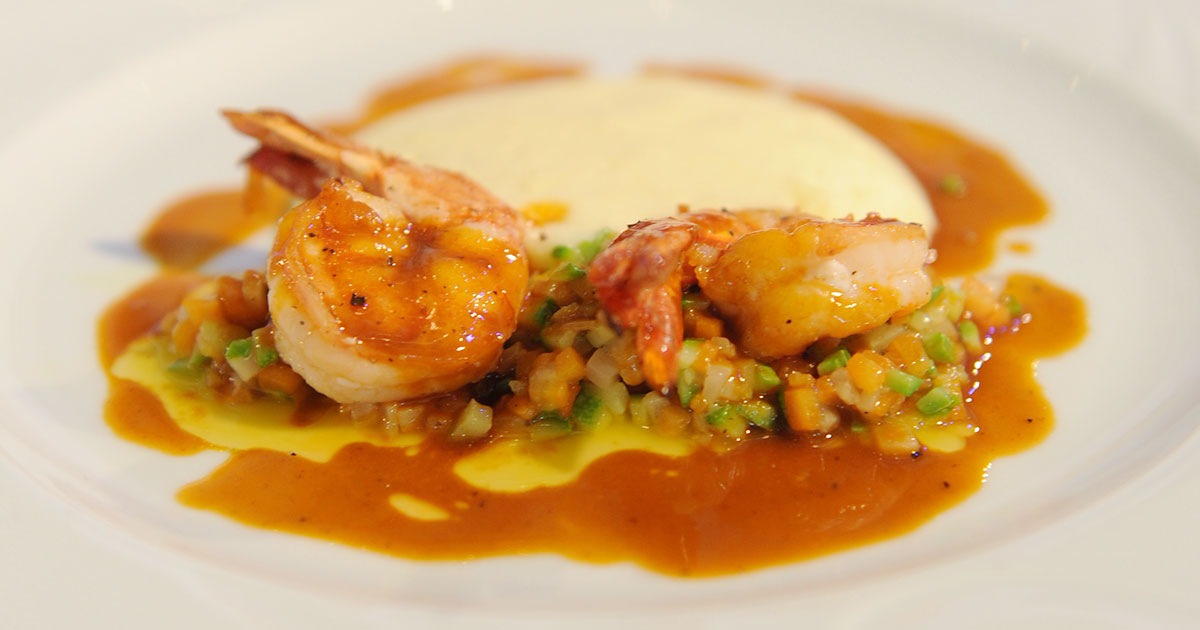 12 crayfish (langoustines)
250g mashed potatoes
1 L cooking cream
150ml whole milk
1 chopped onion
5 minced shallots
1 tomato cut into 6
1 tbsp tomato paste
50g butter
1 finely diced small zucchini
2 finely diced carrots
½ bowl finely diced celery
5 L chicken stock
5g star anise
5g black pepper
1 sprig of thyme
2 bay leaves
20ml cognac
½ L dry white wine
White truffle oil
1. Peel the prawns, keeping the heads aside.
2. Keep the tails cool and grind the heads.
3. Glaze the prawn heads in a large sauté pan in hot oil, add the onion, shallots, tomato, tomato paste and spices.
4. Flambé with cognac and add the white wine, then add the thyme and bay leaf and reduce to three-quarters.
5. Run the mixture through a fine sieve in order to reduce the consistency. Keep it hot.
6. Take the carrots, zucchini and celery and blanch them in boiling salted water and then cool in ice.
7. Fold the mashed potatoes with cream for a liquid consistency, add white truffle oil and seasoning.
8. Heat the diced vegetables with a bit of butter, fry the prawns and serve.