GRILLED FLANK STEAK AND PEACH SALAD
BY U.S. MEAT EXPORT FEDERATION
Serves 8 | Prep/cooking 30 mins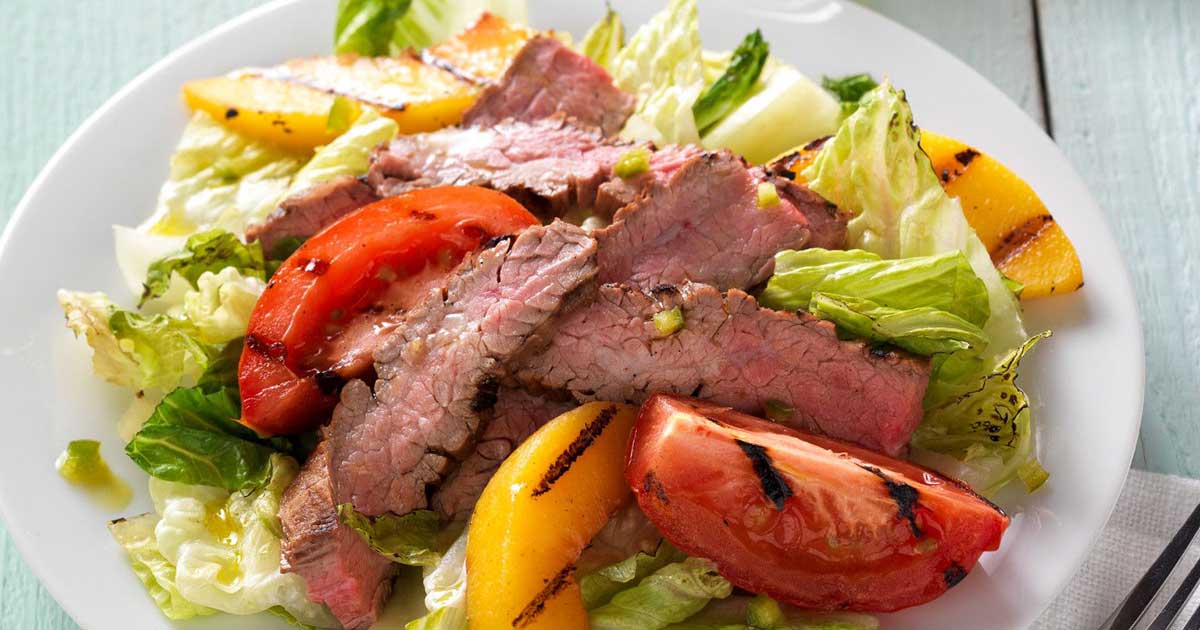 Photo: Courtesy of the Beef Checkoff
Nutrition information per serving
326 Calories; 16 Calories from fat; 16g Total Fat (4 g Saturated Fat; 9 g Monounsaturated Fat;) 66 mg Cholesterol; 446 mg Sodium; 23 g Total Carbohydrate; 2.2 g Dietary Fiber; 25 g Protein; 2 mg Iron; 7.1 mg Niacin; 0.6 mg Vitamin B6; 1.4 mcg Vitamin B12; 4.4 mg Zinc; 27.3 mcg Selenium; 94.8 mg Choline.
1 U.S. beef Flank Steak (about 680.40g – 907.20g.)
4 peaches peeled, sliced
4 plum tomatoes, cut into wedges
4 romaine lettuce hearts, cut in half
½ cup fresh lime juice
¼ cup orange marmalade
¼ cup olive oil
3 tbsp minced jalapeño pepper
1 tsp salt
It's not a salad without steak! This simple salad features peaches, tomatoes, lettuce and U.S. Flank Steak, marinated in a fresh mix of lime juice, orange marmalade, olive oil and jalapeno pepper.
1. Combine marinade ingredients in small bowl.
2. Place steak and 1/2 cup marinade in a food-safe plastic bag; turn steak to coat. Close bag securely; turn steak to coat.
3. Marinate steak in refrigerator 12 hours or overnight. Cover and reserve remaining marinade in refrigerator.
4. Remove steak from marinade; discard marinade.
5. Place steak in center of grid over medium, ash-covered coals.
6. Grill steak, covered, 16 to 21 minutes (over medium heat on preheated gas grill, 11 to 16 minutes) for medium rare (62.77⁰C) to medium (71.11⁰C) doneness, turning occasionally.
7. Meanwhile, arrange peaches, tomatoes and lettuce on grid around steak.
8. Grill peaches 2 to 4 minutes, tomatoes 2 to 3 minutes and lettuce hearts 1 to 2 minutes turning once.
9. Carve steak across the grain into slices.
10. Cut lettuce into small pieces. Combine lettuce and reserved marinade in large bowl; toss to coat.
11. Divide lettuce evenly among 4 serving plates. Arrange beef slices, peaches and tomatoes over lettuce.
This recipe is an excellent source of Protein, Niacin, Vitamin B6, Vitamin B12, Zinc, and Selenium; and a good source of Iron, and Choline.