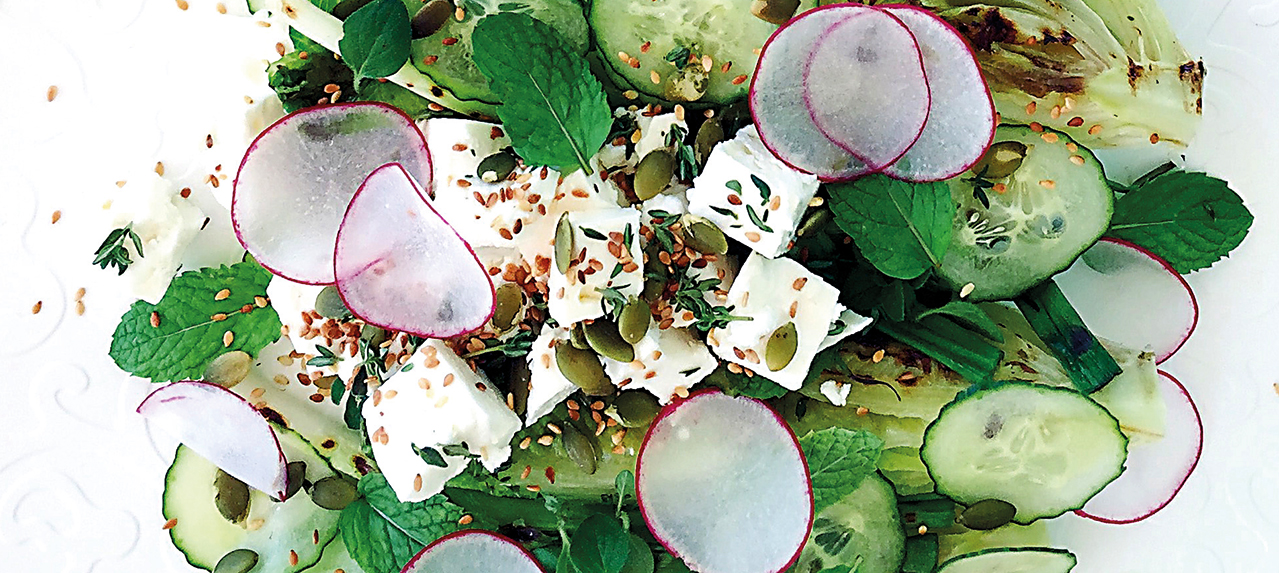 2 medium-sized romaine lettuce, washed but kept whole
6 scallions
1 tbsp extra virgin olive oil
2 small cucumbers, very thinly sliced
¼ cup fresh mint leaves
¼ cup fresh oregano leaves
1 tbsp fresh thyme
1 radish, thinly sliced (use a mandoline)
½ cup Feta cheese, crumbled
2 tbsp raw pumpkin seeds (or sunflower seeds)
1 tbsp toasted sesame seeds
Dressing
1 tsp lemon juice
1 tsp apple cider vinegar
3 tbsp extra virgin olive oil
A pinch of ground coriander
Salt
1. You will need one grill pan, a mandoline, a small plate, a small bowl and a big shallow plate for serving.
Scale and prep all the ingredients.
2. Cut the romaine lettuce in two, lengthwise. Drizzle the cut sides with Extra Virgin olive oil.
3. Heat a grill pan for a few minutes until really hot. Place the halved lettuces, cut side on the grill for 2 minutes. You don't want to cook the lettuce through, you're just looking for a light sear. Remove from the pan, place on a plate and reserve.
4. While the grill is still hot, drizzle the scallions with extra virgin olive oil and sear them on multiple sides for 1 minute or 2. Remove from the grill and set aside.
5. In a small bowl, whisk all the dressing ingredients. Taste a little bit of the Feta before finalizing the dressing and plan the salt amount accordingly.
6. Cut the grilled lettuce lengthwise again. You will end up with 8 wedges. Place the lettuce on a big shallow serving platter.
7. Arrange the grilled scallions on top. Add the cucumber and radish slices. Top the vegetables with crumbled feta, sprinkle with all the fresh herbs, pumpkin seeds and toasted sesame seeds. Drizzle the dressing and serve immediately.