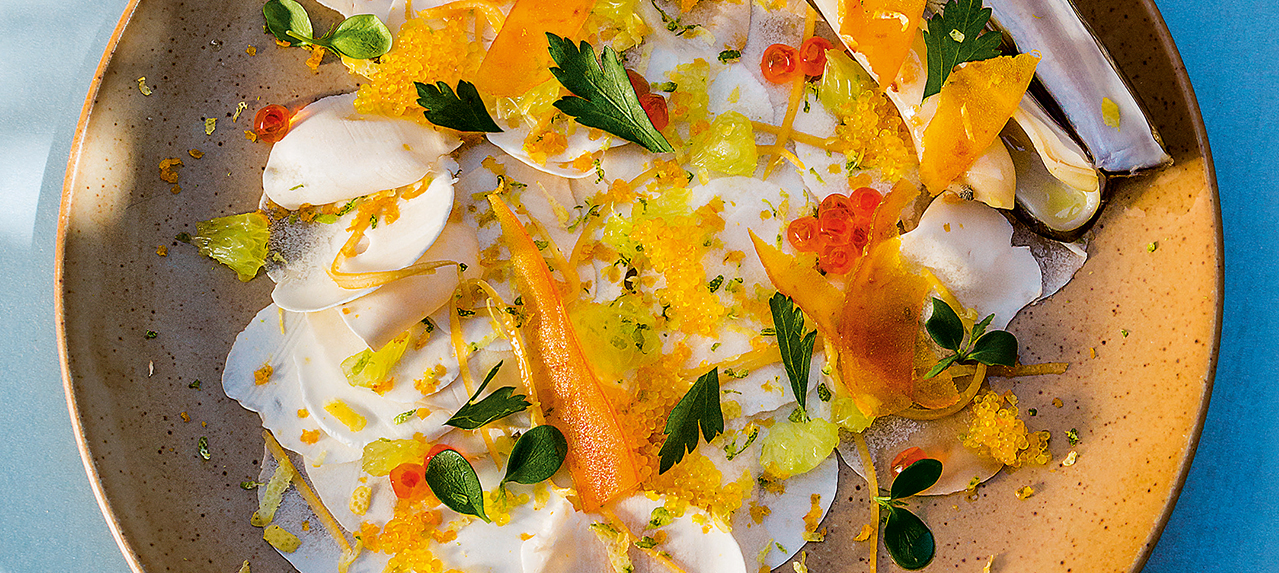 • 4 razor clams
• 2 lemons
• 16 large white button mushrooms
• 1 lime
• 2 tsp (10g) flying fish roe
• 2 tsp (10g) mullet roe
• 1 small bunch parsley
• 1 small bunch basil
• Olive oil
• ½ bottarga (dried mullet roe)
• Salt & pepper, to taste
1. Soak the razor clams in cold water to cover for 30 minutes to extract any sand.
2. Zest the lemons, reserving the zest, and squeeze the juice. Peel the mushrooms, toss them in half of the lemon juice, then slice them finely on a mandolin. Arrange them on four individual plates.
3. Preheat a ribbed grill pan. Place the razor clams on the pan and cook briefly on each side until they open.
4. Peel the lime, removing all pith and membrane, and dice the flesh. Arrange the fish roe, herbs, lemon zest, and diced lime evenly over the mushrooms, season with salt and pepper, then add a drizzle of olive oil and a splash of the remaining lemon juice.
5. Place a razor clam on the edge of each plate and lastly finely shave the bottarga into thin slices over
the plate.