GRILLED RED SNAPPER WITH SAUTEED EDAMAME
Serves 4 | Prep/Cooking time 40 mins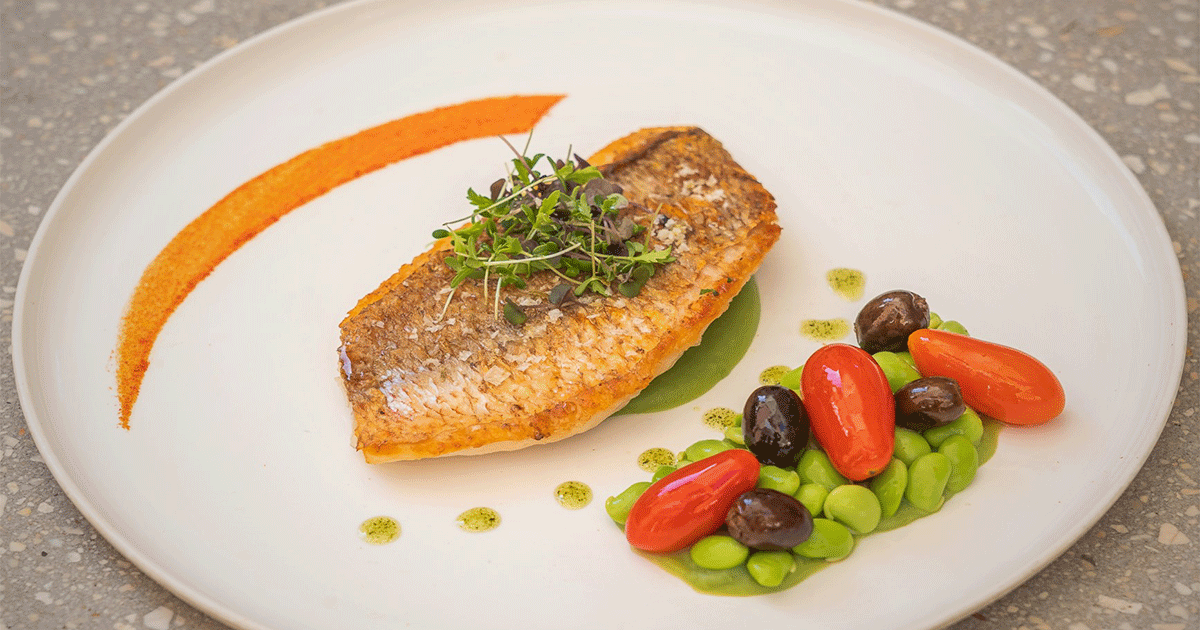 Edamame purée
1 cup of edamame
2 cups vegetable broth
10 mint leaves
2 pcs of spring onion
½ tsp salt
Sautéed edamame               
2 tbsp. olive
1 cup unshelled edamame
1tsp chopped mint
16 pcs black olives
12 pcs cherry tomatoes
Salt and black pepper
Grilled red snapper
4 filets 160 to 180 g red snapper
4 tbsp. olive oil
½ tsp salt
¼ tsp black pepper
Lemon zest                 
Pinch espelette pepper (can be replaced with chilli powder)
4 tbsp. lemon juice
Boil the vegetable broth.
Add the mint and spring onion. Season with salt.
Add the unshelled and peeled edamame and cook for 5 minutes.
Use a juice blender to mix all the ingredients until the edamame becomes smooth and creamy.
Sautéed Edamame               
Heat a non-stick pan with the olive oil and add the edamame.
Add the chopped mint, black olives and cherry tomatoes.
Season with salt and black pepper.
Grilled Red Snapper
Use a non-stick pan or a flat grill to cook the fish
Heat a non-stick pan with olive oil.
Season the fish with salt and black pepper, and cook it (skin side) for 2 mins then the other side for 1mn.
Drizzle the fish with lemon juice, grated lemon zest and espelette pepper.
Serve in a warm plate starting with the edamame purée, the grilled red snapper and the sautéed edamame aside.