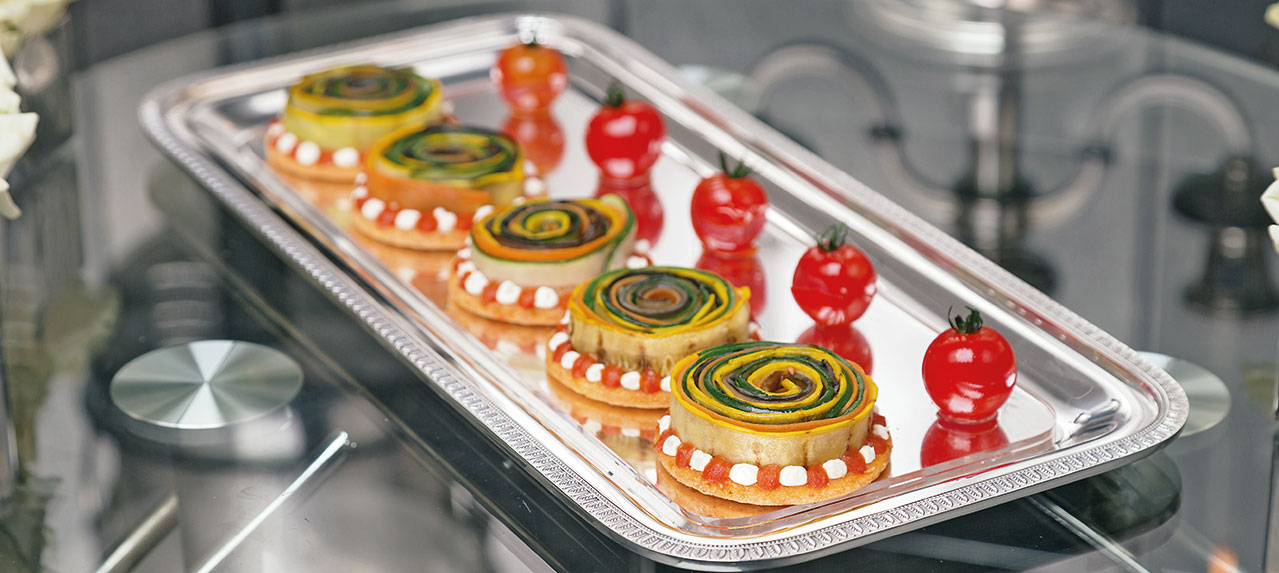 1 pc yellow zucchini
1pc green zucchini
1 pc eggplant
1 pc carrot
100g goat cheese
10g olive oil
Salt
White pepper
10g pesto sauce
Parmesan biscuit
100g flour
100g butter
25g parmesan powder
1 egg
1 pinch cayenne pepper
1. First, prepare the biscuit by mixing the butter. Add the flour, the egg, the parmesan and a pinch of cayenne pepper.
2. Put it in the fridge for 1 hour, then roll it and cut it according to the size you want and bake in the oven at 190°C for around 10 minutes.
3. Mix the goat cheese with olive oil.
4. Cut half of the vegetables in slices and mix them with a little bit of olive oil, salt and pepper and finally grill them in a pan (or on an electric grill).
5. Cut the other half of the vegetables in brunoises. Mix them with the goat cheese.
6. Spread the cheese on the cooked parmesan biscuit, then roll the vegetables (after mixing them with pesto sauce) until the goat cheese covers the biscuit.
7. Put it in a hot oven at 180°C for 3 to 4 minutes. Can be served warm or cold.