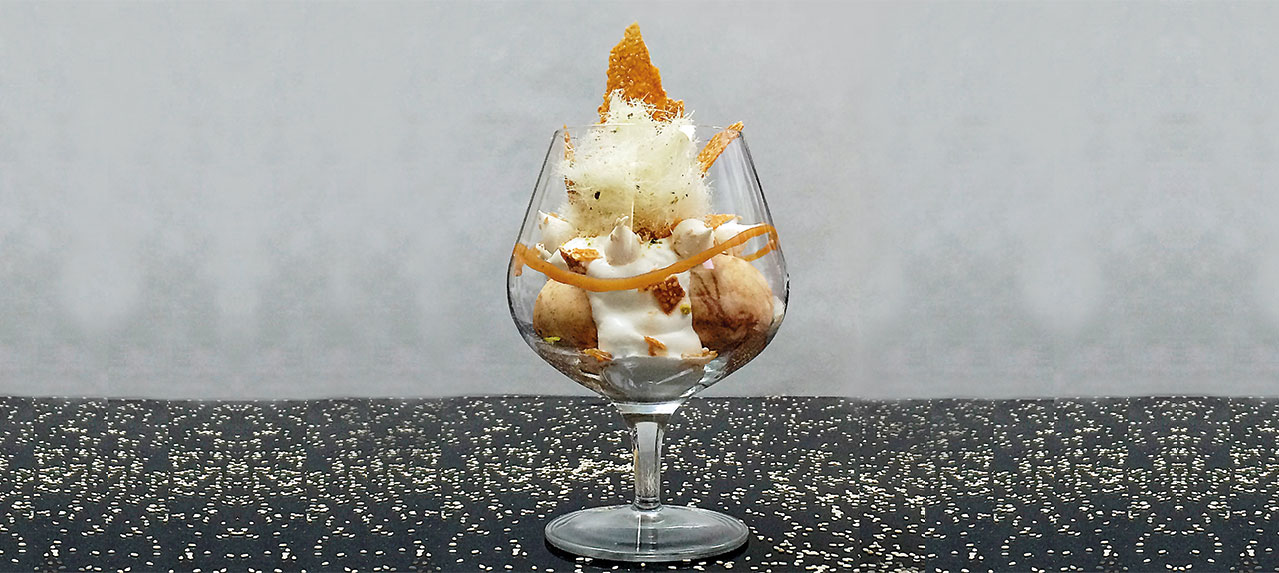 Halaweh ice cream
640g liquid milk
35g skimmed milk powder
40g sugar
50g trimoline (sugar syrup)
60g butter
100g halaweh paste
50g stabilizer
Meringue
100g egg whites
100g sugar
100g icing sugar
2g vanilla extract
1. Weigh out the ingredients precisely.
2. Mix the stabilizer with 10 times its weight in sugar.
3. At 4°C mix the milk with the skimmed milk powder.
4. At 25°C mix in the sugars.
5. At 35°C mix in the melted butter.
6. At 40°C mix in the egg yolk and stabilizer mixed with the sugar. Heat to 85°C for two minutes. Mix well and leave aside to mature at 4°C for 8 hours. Freeze the mix in an ice cream maker. Transfer the ice cream into a closed container, then deep-freeze so as to stabilize at -40°C.
7. For the meringue preheat the oven to 100°C.
8. Whip the egg whites until foamy using an electric mixer. Sprinkle in sugar a little at a time, while continuing to whip at medium speed. When the mixture becomes stiff and shiny like satin, stop mixing and add the icing sugar, mix well using a spatula, transfer the mixture to a large pastry bag.
9. Pipe the meringue out onto the prepared baking tray using a round tip. Bake for 1 hour until the meringues are dry, and can easily be removed from the tray. Allow to cool completely before storing in an airtight container at room temperature.
10. For assembly, fill cups with three scoops of Halaweh ice cream and decorate with meringues. Using a piping bag weave lines of halaweh paste to form a wave into the glass. Add the whipping cream and garnish with cotton candy.