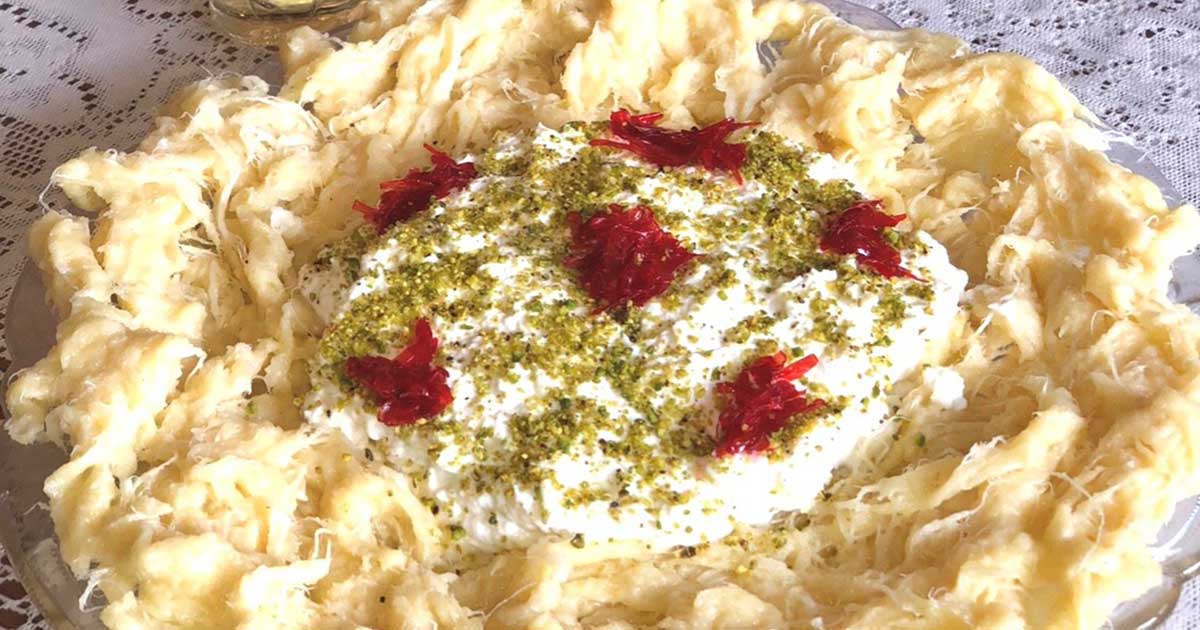 16 oz shredded mozzarella cheese
1 1/2 cup semolina fine smeed
2 cup sugar
2 cup water
1 tsp blossom water
4 cups sugar
3 cups water
1 tbsp bottled lemon juice
1 tsp blossom water
1 quart half n half
2 cups heavy whipping cream
8 slices American white bread cut into 1/2 inch pieces, edges off
1/3 cup corn starch
Halawet el Jibne is a popular Middle Eastern dessert made with fine semolina smeed, sugar, blossoms water, and cheese (we use shredded mozzarella cheese). After the semolina, sugar, and cheese are melted and combined, it is laid out in stretchy pieces to cool. This dessert can also be flattened, stuffed with Ashta, and rolled, but we like to serve ours in pieces, with Ashta on the side for dipping and syrup for serving!
1. In a pot, dissolve the sugar in water over medium heat.
2. Before it starts to boil, add the cheese. Stir cheese constantly until it combines with the water and becomes one piece.
3. When it starts to boil, set to low heat and add the smeed. Stir constantly for a few minutes until well blended.
4. Thoroughly clean space on a long table. With a rolling pin, spread a half cup of syrup to cover the working area of the table.
5. Immediately add the cheese over the syrup and use the rolling pin to flatten and spread it out.
6. After 20 minutes, pick off pieces of the cheese, one by one, and spread out on plate to cool.
7. Over medium heat, mix the sugar until it dissolves in water.
8. When boil starts, switch to low heat and add lemon juice.
9. Let simmer for 25 minutes. Turn off heat and stir in blossom water.
10. Mix all ingredients together over medium heat. When boil starts, set to low heat and stir for two minutes. Set aside. Stir every 20 minutes until cooled.
11. When cool, set in fridge and stir after an hour, again after 2 & 3 hours (or else an undesirable thick layer will form at the top).
To serve: Plate the jibne, add ashta in the center, garnish with ground pistachio & serve with syrup
Recipe Notes
• Serve jibne with ashta and syrup
• Ashta and syrup can be prepared a day in advance