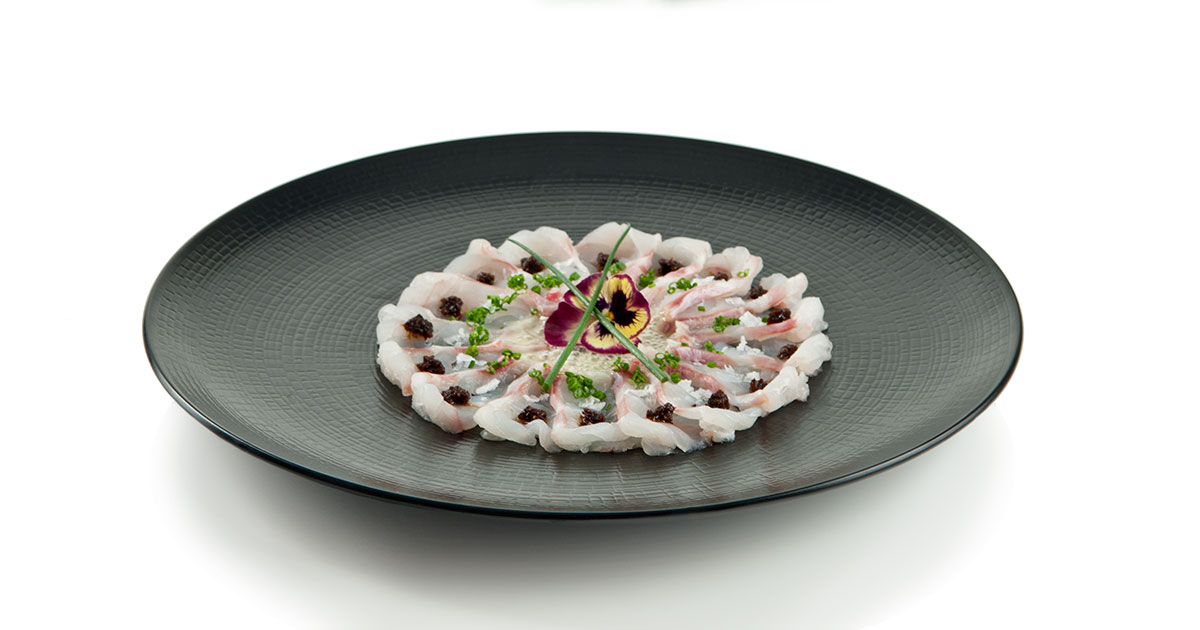 For Carpaccio
150g fresh hamour filet
50g homemade chili oil
5g chopped chives
1g iodized salt
For yuzu foam
300ml Yuzu juice
Pearl agar 4%
For chili oil
1 L sesame oil
200g minced fresh ginger
200g minced fresh garlic
70g green Sancho or Japanese mountain pepper
3 tbsp Korean chili pepper
2 tbsp Cayenne pepper
1 tbsp Tougarashi
For garnish
2 pcs of any flower or orchids
2 pcs chive stems or stalks
1. For chili oil, heat sesame oil, garlic, and ginger in a saucepan until it smokes, add green Sancho, chili pepper, cayenne pepper, and tougarashi.
2. Cook on low heat for 30 minutes stirring occasionally.
3. Remove the foam from the surface for better taste.
4. Remove from heat and add 1 tbsp sesame oil, let it steep until it cools down after cooking.
5. Thinly slice the hamour fillet and arrange it circularly on a plate but leave the center empty for the yuzu foam.
6. Sprinkle the slices of fish fillet with salt.
7. Pour a bit of chili oil on top of every slice of fish fillet.
8. Add chopped chives.
9. Add the prepared yuzu foam in the center of the plate.
10. Garnish with flowers and chives stems.