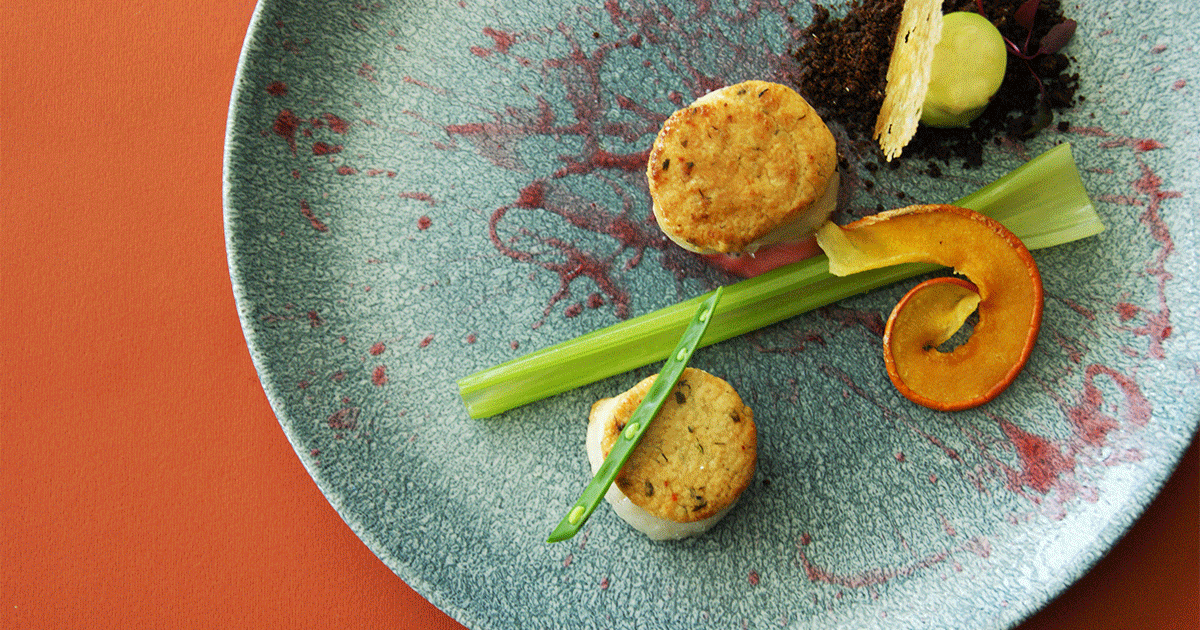 800g sea scallops
160g breadcrumbs
20g Dijon mustard
5g espelette pepper
20g chopped chives
100g butter
30ml lemon juice
Half bunch of chopped parsley
5g chopped garlic
20g olive powder
50ml vegetable oil
40ml raspberry vinegar
25g Dijon mustard
50g fresh raspberry
300g celery branches
200g baby zucchini
100g Kenyan beans
50g shallot chopped
100ml olive oil
Salt and black peppercorns
Mix the breadcrumbs with the mustard, melted butter, lemon juice, chives, parsley, espelette, garlic, salt and pepper.
Place the scallops in a shallow baking dish lined with parchment paper. Spread the breadcrumbs mixture completely over the scallops and bake for 10 mins.
For the dressing, mix the vinegar, salt and pepper together until the salt is dissolved. Add the mustard, corn oil and fresh raspberry. Using a blender, mix well until you obtain a smooth and consistent dressing, then store in the fridge and stir well before using.
Boil the water in a large pot, gently blanch the vegetables, cool then set aside.
Using a large pan and over a medium heat, warm one spoon of olive oil, add the chopped shallots and gently fry for 5 minutes. Then add the cooked vegetables, season with salt and pepper and continue cooking for another 10 mins.
Dress with the raspberry dressing on the plate and add the baked scallops in the middle. Garnish with black olive powder and finish with sautéed vegetables.