10 STEPS TO CLEAN AND SANITIZE YOUR CHILLER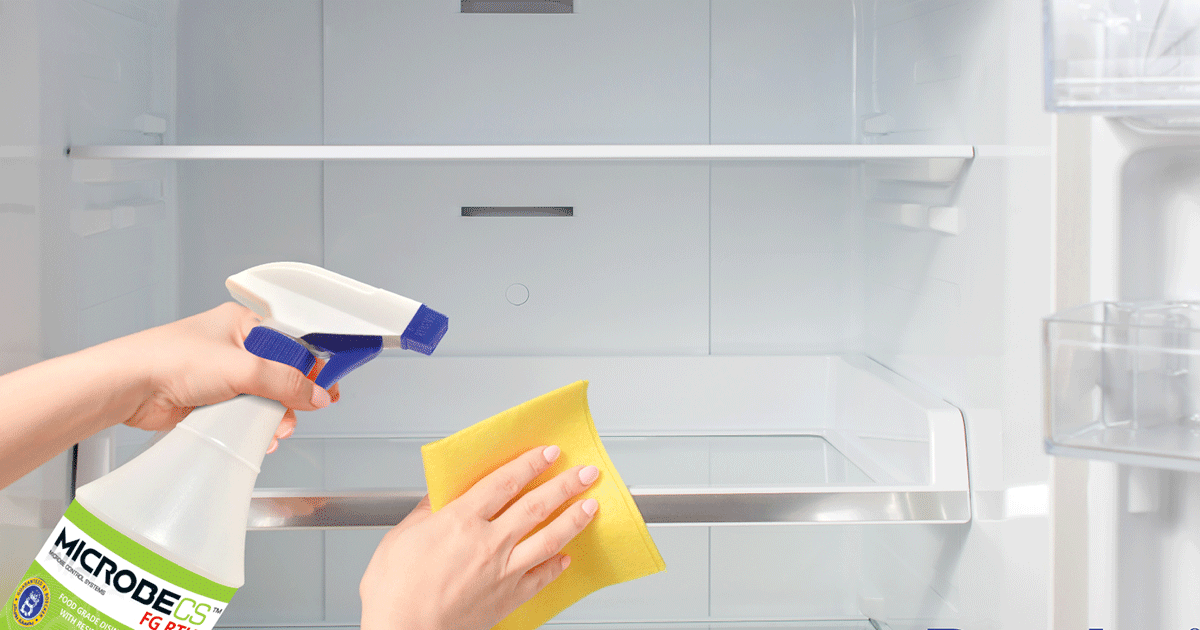 It is of utmost importance to routinely clean and disinfect refrigerators and freezers. Drippings and leftovers from food and drinks inside chillers can harbor undesirable microorganisms, particularly bacteria and molds, and results in the offset of odors which tend to permeate the contents of the chiller. Spoiled food can also spread microorganisms to the interior of the chiller and consequently to other food items.
REMOVING SOLIDS
All food leftovers and spoiled food are to be removed from the chiller. Reusable containers should be washed with detergent and warm water. Spoiled food should be safely discarded, preferably in a sealed plastic bag.
Spills and obvious dirt, on the other hand, should be cleaned immediately rather than left for the next scheduled deep cleaning date.
EMPTYING
Food items in the chiller should be removed and placed on the counter, however, they should not be left outside for more than two hours. Shelves, drawers, ice trays, and any other removable parts should also be removed.
WASHING SHELVES
Drawers and shelves are to be scrubbed with a sponge soaked with warm water and detergent. It is important not to use warm water directly on glass shelves to avoid cracking. They should then be rinsed with water and dried well with a clean towel.
WASHING INTERIOR
Using a sponge soaked with warm water and detergent, the insides of the chiller should be scrubbed. they should then be rinsed with water and dried well with a clean towel.
N.B.:  It is important that the detergents used are not solvents or abrasives to prevent the passage of residual chemical into food and ice cubes which can alter the taste and smell and can render them unsafe for consumption.
In case odors persist in the chiller, following are some actions that can be taken:
Wiping the interior with vinegar and water.
Adding baking soda or fresh coffee grounds in a shallow container in the bottom of the chiller.
Resorting to commercial products specifically for such purposes and strictly following manufacturer's instruction.
WASHING EXTERIOR
The exterior of the chiller (door, sides, and handles) should be wiped with warm water and detergent, rinsed, and dried with a clean towel.
DISINFECTION
The interiors and exterior of the chillers are to be disinfected using an effective food grade disinfectant.
A recommended disinfectant to use in food preparation areas is the Microbecs© disinfectant provided by Boecker© Public Health.  Microbecs© is an FDA compliant, EPA approved, food grade disinfectant particularly suitable for disinfecting food and non-food contact surfaces in a kitchen.
LEAVE TO DRY
The chiller door must be left open for 15 minutes to air dry.
WASHING CONTAINERS
Wipe food containers and bottles with a cloth soaked with warm water and food grade detergent.
REASSEMBLING
Return shelves, drawers, and the rest of the removal parts back to the chiller along with the food items that were removed.
FINAL CLEAN-UP
Wash your hands with warm water and hand soap after cleaning, and wash and disinfect any tabletops and counters that held food containers and drinks. Wash and dry any towels used to dry the chiller and the counters.