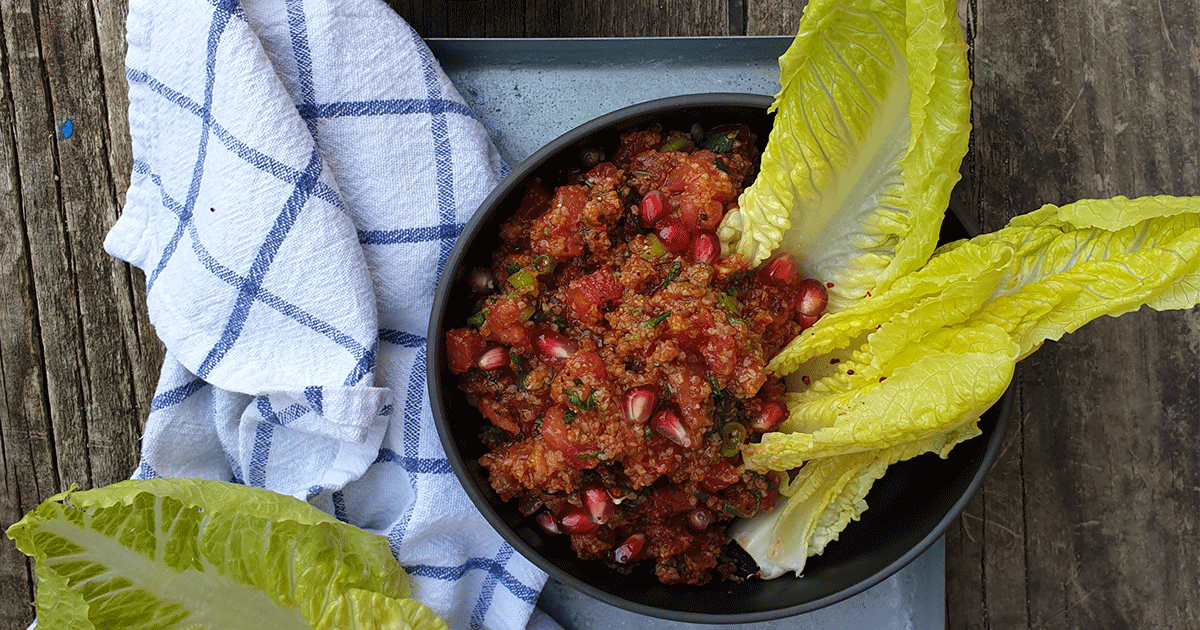 1 small onion
1 cup olive oil
1 tbsp. tomato paste
1 cup bulgur
1 tbsp. pepper paste
1 tbsp. Aleppo pepper
½ tbsp. pomegranate molasses
1 tsp cumin
Salt to taste
2 medium/large tomatoes
Handful of parsley
3 spring onions
2 tbsp. fresh mint (optional)
Lemon (optional)
Pomegranate seeds to decorate
Sauté a diced onion in olive oil for 10 min.
Add tomato paste and pepper paste and sauté.
Add the bulgur, pepper, and cumin and mix.
Add the water, salt, cover & turn off the heat. Let it stand until all the liquid is absorbed.
Transfer into a bowl. Let it cool off.
Add diced tomatoes, chopped parsley, spring onions, and mint (optional).
Dress with pomegranate molasses and olive oil.
Adjust salt and sourness to your own taste, and lemon juice (optional).
Serve with lettuce or cabbage. Sprinkle with pomegranate seeds.
MORE RECIPES BY FARAHSKITCHEN