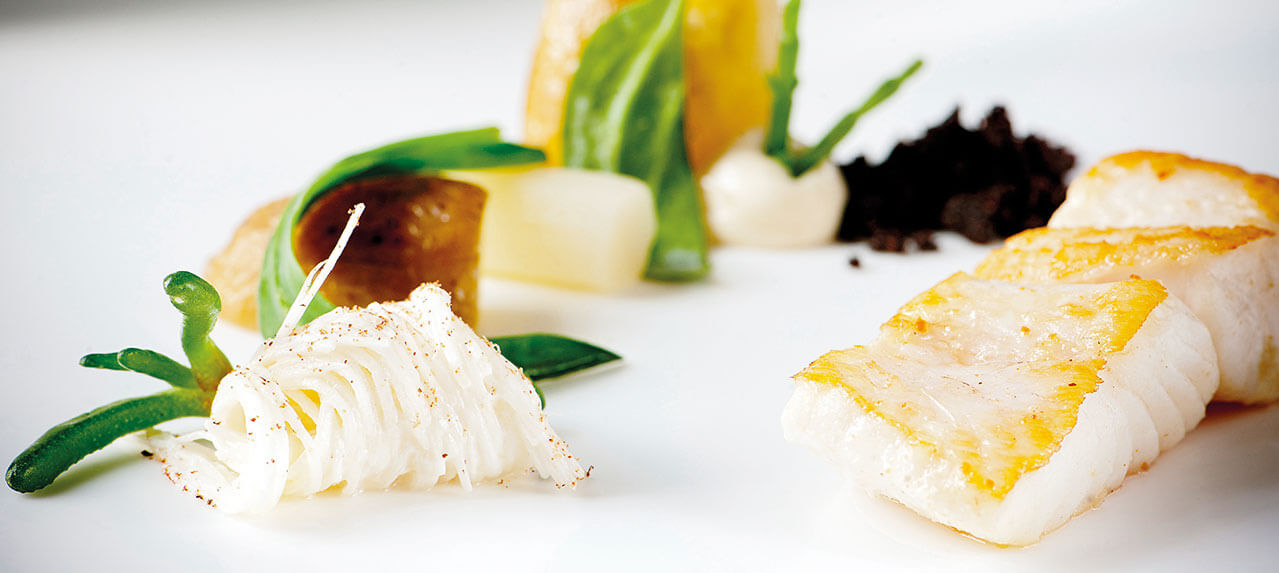 Malt crumble
250g butter
4 eggs
40g flour
50g dark malt
10g baking powder
20g fleur de sel (salt)
100g almond powder
2g pepper (penja pepper)
Asparagus heads
1L water
15g salt
150g butter
3g mace
Mace emulsion
3g mace
30g mustard
40g white balsamico
30ml natural vinegar
60g egg yolk
40g egg white
450g sunflower oil
80g cream
Salt
Mace gravy
1 baked fish bone (John Dory)
½ fennel
½ garlic clove
50g dried onion
5g mace
½ lemon peel
10g thyme
10g tarragon
½L white wine
½L chicken stock
½L asparagus stock
Garnish
Green leaves: Samphire, salt finger, oyster leaf, green cardamom
1. Bake fish in a pan until well done.
2. For the malt crumble, mix all ingredients together, thin roll and bake at 170°C for 8 minutes.
3. Cut the asparagus very thin (like spaghetti) and add seasoned with the mace emulsion.
4. Boil asparagus. Put a linen serviette on top.
5. Put plastic foil over the pan until done and cool off in fridge.
6. Use the liquid to heat it up.
7. Prepare the mace gravy by mixing ingredients, then allow to soak and make a reduction.
8. Add butter to thicken. Add 2 pieces of green cardamom and fresh asparagus juice.