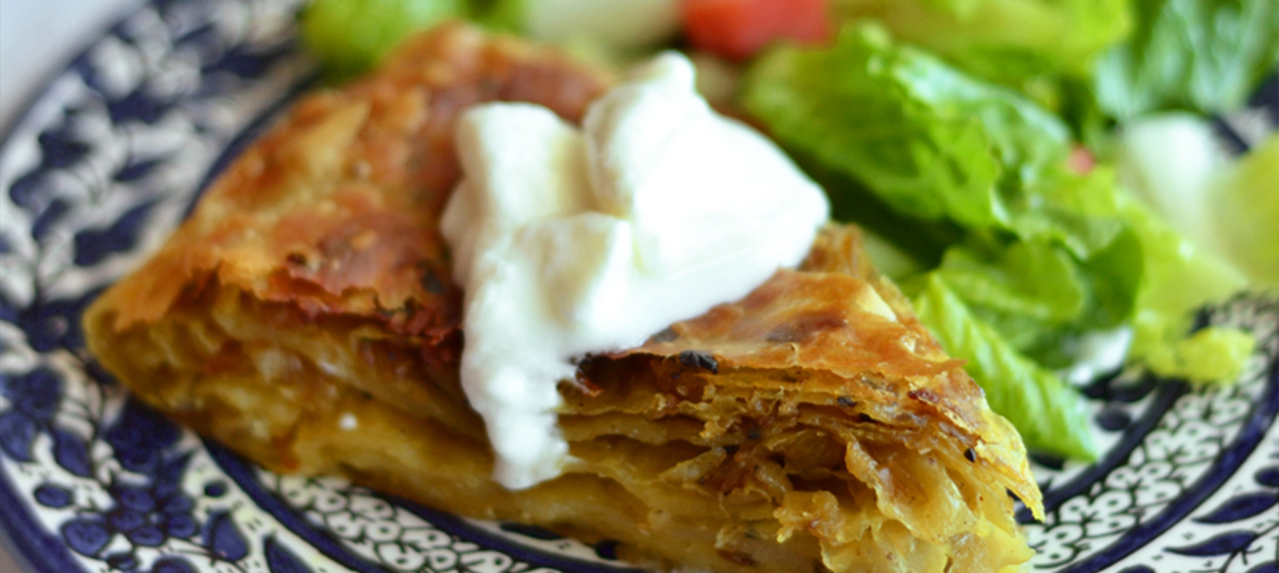 • 3 cups flour
• ½ tsp salt
• ½ tsp nigella seeds (optional)
• ½ tsp fennel seeds (optional)
• ½ tsp anise seeds (optional)
• About 1 and ½ cups warm water (you may need a little more or less)
Filling
• 4 cups chopped onions
• 1 cup olive oil
• ½ tsp salt
• ½ tsp all spice
• 1 tsp turmeric
1. In the bowl of a stand mixer fitted with a kneading attachment (or a regular bowl if you are doing this by hand), add the flour and salt. Slowly add the water and knead, until you get a smooth and sticky dough.
2. Knead the dough for 10 minutes in your stand mixer or 15 if you are doing this by hand. Divide the dough into 4 parts, drizzle generously with olive oil, allow to rest for an hour.
3. In the meantime, prepare the filling. Heat the olive oil in a pot, add the chopped onions with the salt, pepper and turmeric. Cook over medium heat until the onions are translucent. Drain the onions,
reserve the oil.
4. On a clean surface, drizzle some of the reserved olive oil and start spreading the dough with your hands gently until it is really thin.
5. Spread a little of the filling all over the dough. First fold 1/3 of the dough over the middle 1/3, spread with some filling. Fold the other 1/3 over the center and spread with some filling. Again fold 1/3 of the dough over the middle third, and then fold over the other third. The result is a square of layered dough.
6. Put this square on the side and spread another dough ball into a thin circle. Spread with some filling. Place the square of layered dough in the center of the circle. Repeat the folding technique.
7. Up until now we have used 2 dough balls, you can stop here or you can keep on layering up to 7 layers. Place the finished layered loaf into a pan and allow it to rest for 30 minutes. Gently spread the loaf to make it thinner and larger.
8. Bake in a preheated oven at 190°C) on the central rack. For a two layer loaf, bake for 20-25 minutes. For a 5 layer load, bake for 40 minutes. Serve with some homemade yogurt and a green salad.